Celebaby: Natalie Cassidy Spotlight!
In today's Celebaby Natalie Cassidy takes centre stage.
The last few weeks for Natalie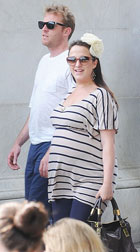 Natalie Cassidy is in the last trimester of her first pregnancy and in the last few weeks she's been popping up in the papers.
I really like her - well, I like what I think I know about her anyway - she seems very down to earth, she's been subjected to more than her fair share of abuse at the hands of the public and the tabloids, but she still comes out smiling.
She doesn't come rolling out of pubs blind drunk, she's transparent when it comes to the struggles she has with her weight, she's got a strong work ethic and a FAR better role model for a lot of girls than other celebrity females I could mention!
She's been having a busy time of it lately, at the beginning of the month she took on the role of DES (designated driver) for her friends when they attended a Kings Of Leon concert at London's Hyde Park.
Some people were less than complimentary about her appearance, but what do they want? Her to be dressed up in high heels and a size 8 despite being 6 and a half months gone at this point? Please!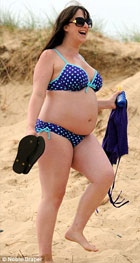 Last weekend the summer decided to pay us a visit before it ran away again (apparently the 'heatwave' is due to return to our shores next week, hurrah!) and Natalie blazed a trail for summer pregnant women everywhere - she took a trip to the beach and had the 'audacity' to wear just a bikini; shock horror!
But her coup de grace (as far as I'm concerned) and should silence the body critics came when she attended the Karate Kid premier in London this week.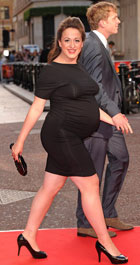 She sashayed down the red carpet looking UTTERLY stunning and totally glam'  in a figure-hugging black dress and high heels. I think she looks fantastic!
On the thorny subject of her pregnancy diet, Natalie said, "I can't get enough of chicken, mayonnaise and sweetcorn sandwiches! But I've been eating healthily - I've not been noshing down four cream cakes in one sitting and claiming I'm eating for two."
And when asked whether there was a post-baby exercise DVD in the offing, she said, "I couldn't just shove my baby off somewhere because I want to lose weight, I want to be a proper mum."
With just a few weeks left to go, in her usual frank manner, Natalie has revealed that the prospect of giving birth is a scary one, "I'm absolutely bricking it. Adam and I are booked on an antenatal course next month. I reckon they'll tell me absolutely everything and I'll come away feeling even more petrified."
I'm afraid so Natalie, especially if you're shown around the labour unit and hear screaming coming from other rooms like I did!