Celebaby: Myleene's Pregnancy Chic...NOT!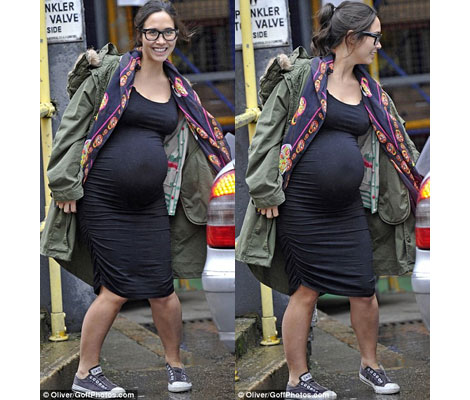 WHAT on earth was Myleene thinking going out dressed like this?
You know when you pass people in the street and you wonder...
a) did they actually LOOK in the mirror before they left the house or
b) did they look and REALLY think to themselves, "DAMN! You're looking HOT today!" and skip off down the street with a spring in their step
Well both A and B applied when I saw the latest photos of Myleene wearing an 'interesting' combination of clothes - the tightest fitting dress you've ever seen in your life, a pair of what could be Converse shoes/trainers (without laces of course), a white cardigan that looks like it's got pink and apple green bobbles and patterns on it (yup, a black dress with a white cardigan - NICE!).
BUT we're not finished yet!
Along with all of that, Myleene was wearing a hideous patterned 'old ladies' scarf, an oversized Parker coat and a pair of VERY heavy, VERY ugly black-framed glasses!
I mean SERIOUSLY, please don't tell me you go out looking like that - pregnant or not!
The other day she was papped by a photographer with a huge bit of tissue up her nose as she's been suffering from nose bleeds; she wrote this on her Twitter page:
'OMG. Just been papped with a wad of tissue hanging out of my nose as have pregnancy nosebleeds! How sexy do I feel? Absolutely MORTIFIED!'
Just a quick bit of editing and she could use pretty much the same sentence for these latest pictures from the Papps; her stylists must have been crying into their skinny double lattes!