Celebaby: Mrs Myleene And Simpson Stays Schtum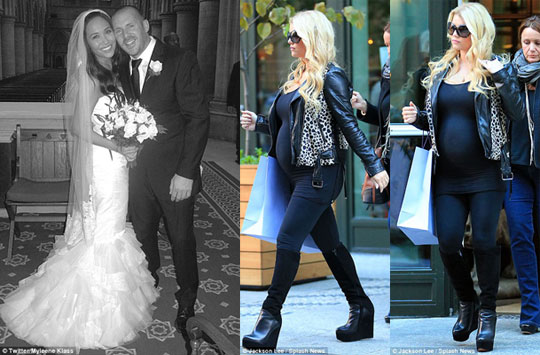 Even if you only read Celebaby every now and again, you'll know that I do like to indulge in a good bit of 'Myleene bashing' - on the whole, she irritates me with her I-can-do-it-all-and-do-no-wrong-apart-from-that-knife-brandishing-incident persona and her endless tweeting.
Myleene becomes Mrs Myleene
So I was rather alarmed to find myself applauding her for her recent quiet marriage to Graham, her long time love and father of her two girls, Ava and Hero (I still think that's a daft name for a girl - oh, phew! It's ok, it seems Myleene bashing hasn't abandoned me altogether!) in a ceremony that consisted of just 16 people.
No huge hurrah; no fanfares; no plethora of paparazzi waiting outside and no (I'm assuming) glossy magazine deal even though the girls would have looked very cute in their bridesmaid outfits.
An official statement offered the following explanation:
The couple did not want a big lavish affair, they just wanted to be married and enjoy the day with their nearest and dearest
Well, much as it pains me to say it, GOOD FOR YOU Myleene!
Jessica Simpson
Talking of magazine deal, there has been MUCH talk and discussion over recent months as to whether Jessica Simpson is pregnant or not.
Recent pictures clearly show that she is; an expert has said that her bulging belly is definitely that of the baby variety, rather than 'who ate all the pies' but there's no word from the Simpson camp at all.
Apparently this is because her father/manager is demanding $500,000 in return for his daughter confirming she's expecting her first baby.  However, the 'great and good' of the media say her fame status, or lack thereof, doesn't warrant that amount of cash.
According to the expert, Jessica's about six months preggars - all I can say is, most people couldn't care less (Jessica who?! Now it would be big news if it was Jessica Rabbit!) and Jess, your body's given the game away somewhat.
Half a million dollars to say, "Guess WHAT?! I'm pregnant!" HAHAAA, please! The time to have done that was ages ago before we could all see it with our own eyes, love.