Celebaby: Morrocan Scott And Monroe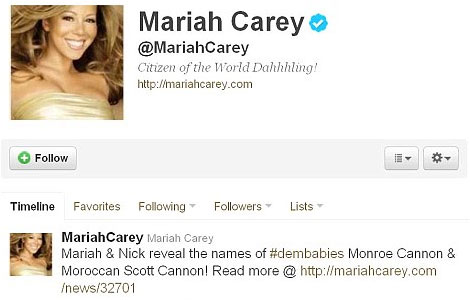 Yep, after much guessing and speculation these are the names of Mariah Carey's twins!
The little boy has been named Morrocan Scott and the little girl, Monroe.
I'm not sure what I think about them to be honest, lots of Ms that's for sure but with Mariah's name beginning with M it wasn't really a big shock that both kids' names begin with the same initial.
There is, of course, lots of sentimental reasons behind those particular names being chosen, rather than just chosing different names JUST to be different; that's just naff.
Mariah has always been a huge fan of Marilyn Monroe and, apparently, owns the late, great, Marilyn's white piano so Monroe is an obvious choice.
Less obvious is Morrocan; Mariah's named her son after a room in her New York appartment...
The Morrocan Room is where Nick proposed to Mariah and is called that because it has Morrocan inspired decor - fancy that, I'd never have guessed.
I'm not sure how I'd feel if I found out I was named after a room when my sister was named after a 1950s icon, but Morrocan can score a point back because he has a middle name and Monroe doesn't.
Scott is Nick Cannon's middle name and his grandmother's maiden name, so father and son have a nice little name thing going on just between them.  Monroe hasn't been given a middle name because Mariah doesn't have one; or perhaps they just couldn't think of one for her.
Still I suppose it could have been worse, with Mariah's love of Christmas she could have easily stolen the name 'Santa' and REALLY upset Victoria Beckham's potential name plans!