Celebaby: Miranda And Flynn, Plus Hilary Duff and Luca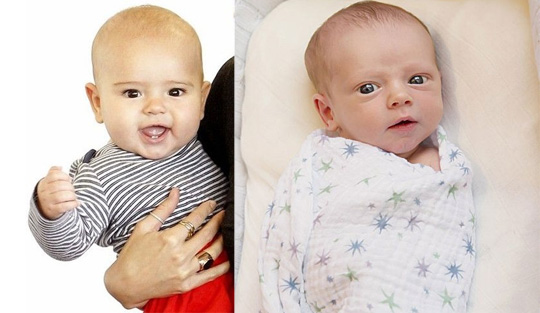 My eldest boy is nearing the completion of his second week as a junior soldier in the British Army, there's something rather special about being an army mum and I'm very proud of him - so, today's Celebaby is about two mamas who are proud of their little lads too; hurrah for the boys!
Miranda and Flynn
Flynn Bloom is just the most adorable little chap on the planet (apart my own youngest little chap, of course!), he is just properly cute and gorgeous and clearly destined to grace many a teenage girl's bedroom wall, in poster form, when he's older.
Miranda has recently spoken about how Flynn has made her life complete, "I was working 18-hour days," she says, "Now that pace has slowed so I can spend the majority of my time with Flynn.  I'm first a wife and a mother, then comes work," she concludes.
I think Flynn is the absolute spitting image of his dad; Miranda says he has a cheeky glint in his eyes that's just like her, "He's a really charming, lovely boy. He has that look in his eye like, 'What trouble am I going to get into next?' But I like that, it's like me."
If I had to put together a favourite celeb' family list, the Blooms would be pretty close to the top.
Hilary and Luca
Hilary Duff gave birth to her son, Luca, just two weeks ago and seems to have been getting to grips with things okay.
She's been tweeting about early morning feeds and surviving first outings without any tears (her presumably) - "1st outing complete with no tears! Made it home early...just in time to feed Luca. figuring this motherhood thing out! Yay!" -  but until yesterday there hadn't been any pictures posted of her young son.
Hilary, at last, posted a picture of Luca on her website, titled 'Luca - two weeks old' which was swiftly followed by another and an accompanying tweet, saying, "Oh no! The flood gates have opened! Proud mamma on the loose! I can't help myself."
Hilary has also admited to finding the journey back to pre-motherhood shape somewhat tough, tweeting, "20 minutes on the elliptical seems like an eternity!!! What the hell..."  
ANY time on the elliptical is sheer hell, I'd rather clean the kitchen floor with my tongue than spend time on one of those machines - give me a swift 3-mile walk in the fields with the dogs (even in the rain) any day!