Celebaby: Lioness Kidman and 'Promiscuous' Portman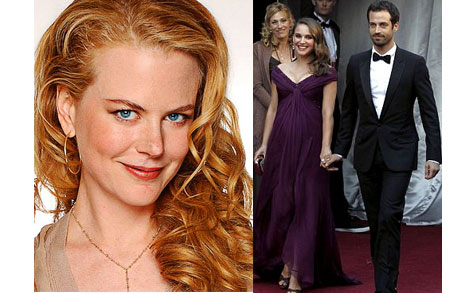 A little bit of a mish-mash for today's Celebaby!
Nicole Kidman
Nicole Kidman has described herself as a lioness when it comes to her children.
Speaking to Haper's Bazarre (I almost wrote 'bizarre' then!) she said, "Sunday says, 'I'm your little cub', and isn't that a nice description, because I do feel like a lioness and I'd do anything to protect her."
Now I quite like that as my youngest is often called Bear Cub or Cub, she also went on to say, "It's also great to be a mother again at 43 because I can have the lifestyle where I can work for a bit and then take eight months off, and most working mothers don't get that."
Now THAT's for sure!
Natalie Portman
Did you see pictures of Natalie Portman on the Oscars red carpet in that STUNNING dress?
Have any of the recent Celebaby posts featuring her, or anything you've read in the press, caused you to think she's setting a BAD example to young girls and glamourising single-motherhood?
No, nor me.
However, former United States Governor - Mike Hukabee - seems to have taken offence to her pregnant state due to the fact she's not married.
He spouted on rather a lot but here's the gist of what he was saying,
"What's troubling is that people see a Natalie Portman or some other Hollywood starlet who boasts of, "Hey look, you know, we're having children, we're not married, but we're having these children, and they're doing just fine.
But there aren't really a lot of single moms out there who are making millions of dollars every year for being in a movie and I think it gives a distorted image that yes, not everybody hires nannies, and caretakers, and nurses.
Most single moms are very poor, uneducated, can't get a job, and if it weren't for government assistance, their kids would be starving to death and never have health care.  That's the story that we're not seeing, and it's unfortunate that we glorify and glamorise the idea of out-of-wedlock children."
OOOH! Someone has got a bee in their bonnet!  Mr Huckabee also happens to have a book to promote and has subsequently backtracked on his comments due to the backlash and furore it sparked off.
He says that his comments were taken out of context and that ctirics of his comments should read his book, "These people should read my book and they would know what I said instead of what some left-wing partisans are attempting to put forth," he went on to say (and I think this bit is key), "I do appreciate the attention to the book as it is sparking interest in it dramatically."
Hmmm, I bet you do Mr Huckabee - I wonder if Natalie Portman feels the same way...