Celebaby: No Kids For Kylie? And Live and Let Live Together For Halle Berry
Time waits for no man and no pop star either and the maternal clock countdown is ticking fast for Kylie Minogue.
Halle Berry and her ex-husband have, supposedly, been locked in a 'talks' over custody of their little daughter Nahla since their separation, but the next three months will see them living together in South Africa!
No Kids For Kylie?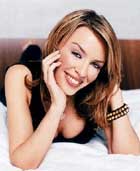 Kylie Minogue has always said that she'd like to have a family of her own one day.  She appeared on Australian TV show 'A Current Affair' recently and seemed to cast doubt on the pitter patter of tiny Kylie feet even becoming a reality by saying...
"I don't really know if it's going to happen for me. All I can say is, we'll see."
Kylie recently became Aunty Kylie and is totally smitten with her little nephew, "He's so diddy and cute! My sister and Kris have taken to parenthood like a duck to water, it would seem, so all is well."
She was asked whether meeting her little nephew had made her broody, "Yeah, a little. I'm putting in the aunty hours instead," was the inevitable reply.
Live and Let Live Together!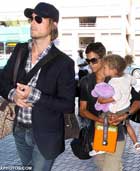 That's about as tenuous a James Bond movie link as I could forge! Forget Live and Let Die, former Bond girl Halle Berry and her ex-husband have been 'discussing' custody and access to their daughter Nahla for a while now.
It all seemed to come to a head when Halle Berry revealed she was jetting off to South Africa for three months to film her next movie, and was going to take Nahla with her (well she wasn't exactly going to lock her in the broom cupboard was she!).
Nahla's father, Gabriel Aubry, felt this was an unacceptable length of time to be away from his daughter so they've all jetted off to SA together, so he can be her primary carer whilst Halle is working.
Not only that, but they've rented a house and are going to live together for the duration too. One of those useful sources said...
"Basically Halle is going to pay Gabriel to be a kind of full time nanny and to come to South Africa for the three months she's there, and to be Nahla's full-time caregiver. 'Halle has a huge house that's being rented for her and she and Gabriel are going to try to live under the same roof and get along for the sake of Nahla."