Celebaby: Lopez Twins Grow & Pricey Meal Ticket Kids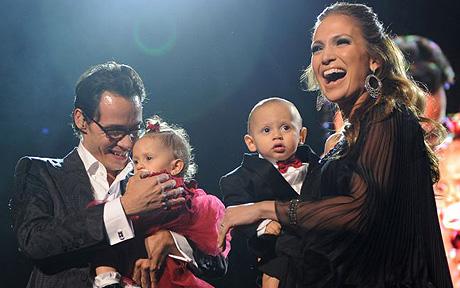 I had to laugh at Jennifer Lopez's reported surprise at how fast her twins are growing...they're only three!
Lopez Twins GROW!
Talking to US Weekly she said, "Over this Thanksgiving week, I was sitting outside and reflecting on how fast this year had passed. Watching your kids get bigger - my babies, how much they've grown in a year!"
Just wait until they hit 16 Jennifer then you'll know what it's like to feel that time has flown.
Mind you, when they're throwing hormone-charged grief and aggro at you,  you'll wish time would speed up just a little more so they can pack their bags and LEAVE HOME!
Jordan's Meal Ticket Kids
I laughed even louder when I read that Katie Price has decided to withdraw her kids from public life, because she wants them to have a 'normal childhood'
Posting on Twitter, she said, "I start filming for my new reality show this week. Junior and Princess won't be in any of my shows or any photo shoots again. I want to withdraw them from the public eye as I want them to have as normal a childhood as possible."
Normal childhood?  With her as a mother?  Unlikely, I'd say!
I'm glad I don't have some of the 'pals' that Jordan has, they are continually dishing the dirt. Oh hang on! That's what they're SUPPOSED to do, silly me!
According to these 'pals' who spoke to Closer, Jordan's sudden change of attitude is down to wanting to be a 'better parent' (oooh where shall we start?!)...
"Jordan got upset after watching an episode of Pete's reality show last week. She's not over him and as much as she tries to pretend she's moved on, she hasn't. But then she got angry with herself for being upset.
She started ranting about how the kids featured in nearly the entire show, and how hypocritical it was that Pete  was always implying she was a bad mum.
Ever since Pete blasted her for allowing Princess to wear make-up and false eyelashes in February, she's been fed up of being made to look bad."
The best bit by far though was this, when she discovered that Junior would be involved in Pete's forthcoming tour...
"She went berserk," revealed the 'pal', "saying she was their mum and should have some control. She said: 'They're children, we shouldn't risk using them a meal ticket.'"
HAHAHAA!!!  Risk it? You've been doing it for y e a r s!