Celebaby: Imogen Thomas Has A Girl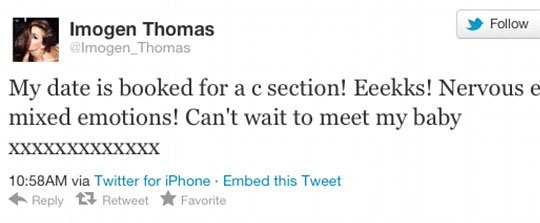 I'm not afraid to admit that I have NO clue who Imogen Thomas is (I think I told you that the other day), but she keeps popping up in the press with the (dubious) title of 'reality TV star' - so I'm guessing some of you will know what her claim to fame is.
Anyway, she's been preggars for, what seems like, AGES - she tweeted a picture of the most enormous bump last week and was getting anxious as the baby was breech and didn't look like turning any time soon.  Well, the baby didn't turn - apparently, Imogen's stomach muscles were too strong to allow her enough room to move. 
It was/is a 'her' too - Imogen's baby daughter arrived (via c-section) at 10.45am yesterday, weighing 6lbs 2ozs, and has been named Ariana Siena - quite pretty, I think.
Last week Imogen spoke to New! magazine and had this to say about the impending birth:
I'd prefer a normal water birth because I've mentally prepared myself for it and giving birth must be the most painful but wonderful experience ever.  I'd like to be able to go, "Is it a boy or girl?" and then pull my baby towards me. I think it's a mother's instinct.  

But then again, the baby's been breech the whole time - it's not moved at all. I still keep getting kicks down my lower belly, so really I don't mind as long as it comes out healthy.
And come out healthy she did; hurrah!