Celebaby: Hugh Grant 'Likes' His Daughter And Jessica Simpson Bump Threatens To Take Over The World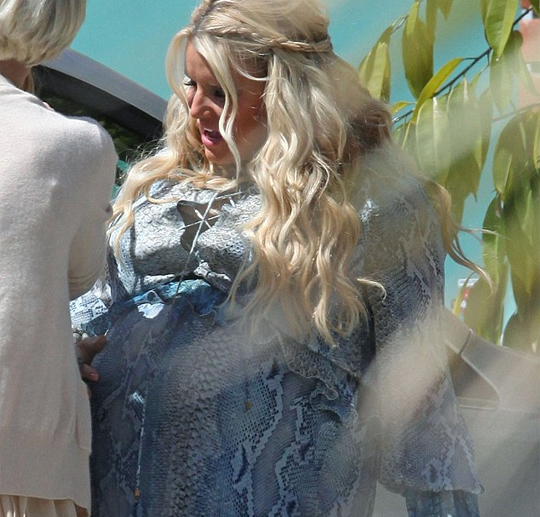 Hugh Grant has spoken about being a father and says he 'likes' his baby daughter (and not as in Facebook 'like')...
"I like my daughter very much. Fantastic. Has she changed my life? I'm not sure.  Not yet. Not massively, no. But I'm absolutely thrilled to have had her, I really am; I feel a better person."
Wow, don't get too gushy about your little girl Hugh!
I'm sure she'll be thrilled to read that when she's older and would much prefer he'd said, 'I LOVE my daughter very much' - perhaps he's just underplaying things, who knows, but one thing Hugh definitely does know - he won't be setting up a trust fund for her.
"My other worry is about - and as I say, there are few things in life I believe in 100 per cent - but another one is not giving your children money. I see nothing but f***-ups among my trust-fund friends. It's like 99 per cent f***-ups. So I would not want to do that to my children, no."
Sorry, Tabitha (that's her name, by the way) - it looks like there's not going to be any unconditional love or cash from your father.  Okay, so maybe the unconditional love part is a bit subjective, but the cash bit it clearly set in stone.
Other Bits of Celebaby News
Tamzin Outhwaite - of EastEnders fame and that weird hotel drama, that I didn't watch - has revealed, on Twitter, that she's expecting baby number two.  Hubby, Tom Ellis, and Tamzin already have a three-year-old daughter called Florence.
Jessica Simpson is still preggars - she totally blew my prediction last week,  of having the baby before Sunday, out of the water.  I say she's 'still' preggars but when she appeared on the Ellen de Generes show recently, she revealed she still had a few weeks to go before she reached her due date.
Poor girl, she looks enormous; I dread to think how big that baby is in there!  She definitely wins the prize for the biggest celeb' baby bump we've seen for a very long time!
Things seem to have sorted themselves out in the world of Alex and Chantelle (PHEW! The world can start turning again now) and he's admitted to being a bit daft in sending Amy Willerton (ex-wife Jordan's reality model search contest winner) a direct tweet.
"'I shouldn't have done it and i regret doing it, but I didn't realise it was Amy Willerton. I get about 20 private messages a day, and I go through them and respond to as many as I can," he has explained. "'I thought it was harmless. Now I'm being portrayed as a cheat, which really upsets me and the gorgeous girl I'm committed to and love with all my heart.
It's caused nothing but misery and stress for my pregnant fiancée. I should have been more savvy."
Chantelle seems to have forgiven Alex for his less-than savvy behaviour and has this to say...
"Alex has now convinced me he is telling the truth, but he has lost some of my trust. Yes, he has been stupid but he is the father of my child and we have got something amazing happening in the next few months.  Our priority is the baby and not us two arguing any more.  We're looking to the future - we have got some really amazing stuff to look forward to."
Well there you go then - normal service has been resumed until the next Alex-Chantelle drama...which will probably be later today or tomorrow.