Celebaby: Holly Willough-Booby!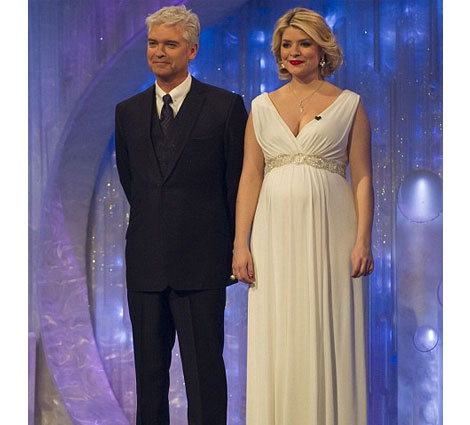 I really like Holly Willoughby, she just seems NICE and normal with her feet firmly on the planet Earth that rest of us usually inhabit.
She caused a bit of a stir last weekend though with another stunning dress she wore whilst presenting the Dancing on Ice semi-final.
I don't usually watch it but the kids had it on and I just thought she looked lovely, some viewers however did not and COMPLAINED to ITV saying the dress was 'inappropriate' and 'offensive' for younger viewers.
I'm stunned!
Holly defended her dress, saying, "'People are just not used to seeing normal size 12 women on TV. I'm proud of my curves. I have boobs and hips, and I dress to accommodate them."
Hear! Hear!
What on earth is the matter with the people who complained?! Do they put blinkers on their kids when they go to the swimming pool or the beach? You see FAR worse just walking through town in the summer!
She was very much looking forward to all the dressing up this year and said as much on her official blog at the beginning of the series...,
"'I'm really looking forward to Dancing on Ice starting on Sunday and it's a really nice time of year for me as I get to wear all the beautiful dresses again - and this year I get to dress my bump!

Emma Bunton and I are both expecting around the same time so every week we'll be able to have lots of baby talk backstage."
I hope that the ridiculous opinion of a few, of the almost 4 million people who tuned in, don't put a stop to Holly wearing beautiful dresses and showing just how AMAZING pregnant women can look.
The final is tomorrow and I'll be tuning in, briefly, to see what FABULOUS dress Holly is wearing this week.