Celebaby: Gav' Goes and Well-Heeled Suri Cruise
Well today's Celebaby has me sat here musing on a number of things.  The first being, I'm glad I'm not a celebrity and secondly, is it just me that doesn't understand the whole £1M wardrobe that four year old Suri Cruise has....maybe there's nothing TO understand but it still raises questions in my mind.
Gav' Goes Galavanting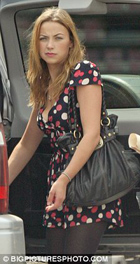 I know what relationship break-ups are like and I know what they're like when children are involved too - it's a horrendous time for all involved even if the split is as amicable and friendly as you can make it.
I can't imagine how Charlotte Church must be feeling just now:  Gav's (Gavin Henderson) done a runner to Benidorm with his mates, presumably to go and drown his sorrows in every single bar in town - according to a fellow traveller on the BMIBaby flight he looked a bit subdued....no, really?  Fancy that.  According to reports in the Daily Mail both Charlotte and Gavin are said to be distraught that their five year relationship has come to an end.
So not only has she been left holding their two babies - Ruby (2) and Dexter (1), but all this just six weeks after they announced their engagement on her 24th birthday AND having to contend with it being splashed all over the newspapers too.
At least when things take a turn for the worse for us mere mortals we can still go out and not have the entire world and his wife staring and whispering in corners, and the kiddies are tiny so hopefully won't be aware of, or understand, all the public fuss and finger-pointing.
Shame, my heart goes out to all involved here.
Suri Cruise and her £1m Wardrobe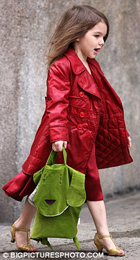 No not the actual wardrobe you put things in, but the current value of its contents!
HELLO!??  This child is FOUR YEARS OLD!!!  Tom Cruise was on the Oprah Winfrey show last month and he said, "Whatever she wants to wear, she wears it. .. She's got great taste too."  Apparently she's just strong-willed and knows what she wants.  Hey, I'm strong-willed and I'd like to drive a Lamborghini, doesn't mean my dad is going to go buy me one!!
Get this, Katie Holmes has commissioned Marc Jacobs (one of the supposed shoe Gods) to make Suri custom high-heeled shoes....SHE'S FOUR YEARS OLD!  What's wrong with a decent fitting pair of Clarkes?  Ok, I'm laughing at that myself but you get my point.  And there's now a plethora of mothers spending absolute fortunes on clothes for their kids - personalised and custom-made personalised Dior t-shirts and an annual clothing budget that could make a big dent in third-world debt.
The rhetorical questions raised in my mind are many; has the world gone completely mad? Just think of all the GOOD that could be done with Suri's £1m wardrobe instead; what's wrong with a pair of Cherokee jeans and a t-shirt from Tesco, or if you really want to go a bit upmarket....Marks and Sparks or Next?
I suppose there's nothing 'wrong' with it, it's their money and people have the right to do what they like with it.  But you know, if I had pots of cash I still don't think I'd spend thousands (or millions) of pounds on clothes for my kids when they're going to grow out of them in half an hour.
Horses for courses and all that I suppose and I guess I'm more of a fashion donkey-Blackpool-beach  type than a flighty thoroughbred-race-horse-fashion-victim- racehorse.