Celebaby: An Encore For Myleene Klass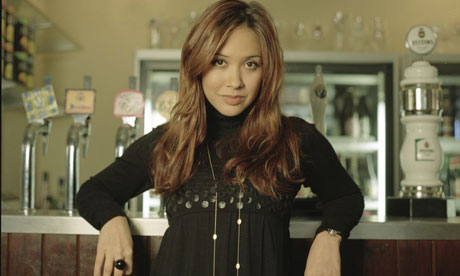 There's something about Myleene Klass that just makes me want to draw a big comedy moustache on her huge posters in Marks and Sparks, and poke her in the eye and run away if I met her in real life.
She irritates me beyond belief and I'm not sure why, because she seems nice and rather well-balanced and sensible for a celeb'. Maybe that's why - she's TOO nice, a right Little Miss Goody-Two-Shoes who can do no wrong; actually, she can but I'll tell you about that in a minute.
Myleene Klass - ex naff manufactured pop-group member, ACE piano player, TV presenter, was either a L'Oreal, Pantene or Dove tv advert girl (I can't remember which, but knowing her it would have been all three), has her own radio show on Classic FM, has her own baby clothes range and even wrote a book about her first pregnancy called 'My Bump and Me'.
The Bump was her, now, three year old daughter Ava (she even chooses stunning names for her daughter) is going to be joined by Bump No. 2.
Yup, squeaky clean Myleene is preggars again and, like any self-respecting celebrity, announced the news on Twitter!
Woo hoo! I'm pregnant! So happy!!X
The jury's out as to whether she's going to launch a maternity range to go with her baby clothes range 'Baby K' - but I rather think it's inevitable don't you?!
Now about that 'can do no wrong, but actually she can' thing I eluded to earlier.  Brace yourselves, squeaky clean Myleene (I like that) was told off by the police back in January - yes I know that was a while ago, but I do have a life when I'm not writing about celebrities.
Anyway, back in January, Myleene spotted some 'youths' in her garden so she grabbed a knife and banged it on the window.
She THEN received a police warning about carrying an offensive weapon - which is illegal, even in your own home....tell me we don't live in a crazy world!
But all the same, it amused to know that Myleene has been told off by the police in the past - that makes me feel much better, I might even start liking her next *wink*