Celebaby: Elton John On Being A Dad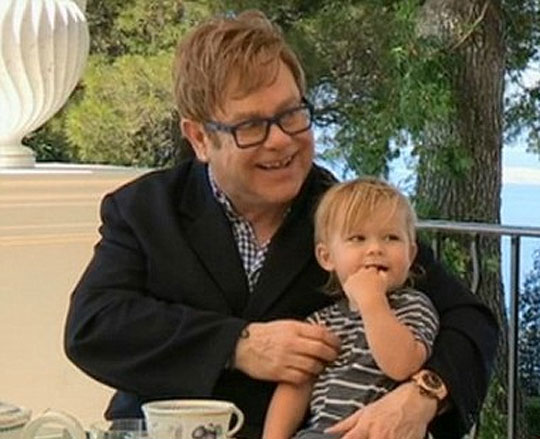 There's still much venom spat about Elton John and David Furnish's fatherhood and Elton has been pretty tight-lipped, in the grand scheme of things, since Zachary was born.
But he was unusually candid and revealing in a recent interview; he spoke about how his life has changed since having Zachary, how he and David will definitely be having another child as he doesn't want him to be an only child, and of his worries for Zachary when he becomes aware of their different family set-up.
Here's what he had to say...
"I think it [parenthood] changes everybody. It's the most wonderful thing that you could possibly go through.  I regret a little bit that I didn't do it sooner, but he has changed our lives. Everything is about him now. 
He's gorgeous, he travels brilliantly, he so loves people, and it makes our lives - he's the icing on the cake.  
He loves the piano, he sits down and plays it - he doesn't just bang it, he plays it like I play it. He's never seen a show, he's too young, but he comes out when the stadium is empty and sits down on the piano stool with me and he plays and looks into the microphone and thinks, "What the hell is going on here?""
When asked about their daily routine, Elton revealed...
"The first thing I do every morning is have breakfast with him. He shares my breakfast; whatever I have, he wants.  He has my boiled egg and I have his pineapple or vice versa.  
I sound like I'm the only person who has ever had a kid - everyone's been through this, but for me, it's an incredible difference to what life was before."
Speaking about the day Zachary becomes aware that his family is radically different from almost everyone else's, Elton said...
"It's going to be heartbreaking for him to grow up and realise he hasn't got a mummy. But he's so happy. I've never seen a more contented child."
There are certainly tricky and heart wrenching times ahead; I hope the press/media understand that they have a role to play in how Zachary will feel about his family dynamic - reading, or being told about, and having to deal with tawdry headlines and vicious comment will certainly not help him at all.