Celebaby: Double Joy For Lily Allen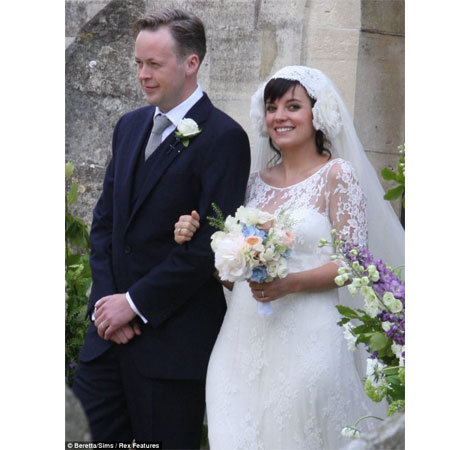 On Saturday afternoon, the lovely Lily Allen  married her fiancee, Sam Cooper.
She wore a very lacy dress and a veil that looked like it had a bit of a mop cap top to it - it's not what I would wear if I was doing the whole 'big white dress' thing again (I got married in shorts, flip-flops and a t-shirt in January) but I think this style suited Lily down to the ground.
Marrying the love of your life is joyous enough but at the wedding breakfast (WHY is it called 'breakfast' when it's always eaten in the afternoon?) that there was another reason for the newly married couple to be over the moon - Lily's 12 weeks pregnant!
This is fabulous news but anyone with an ounce of compassion is going to be a nervous wreck until this baby arrives safely.
Lily suffered a miscarriage back in 2008 when she was four months pregnant and lost a baby boy six months into a pregnancy back in November, following which she almost died herself.
A friend has said, "'Lily's scared, there's a long way to go - but the happiness outweighs the fear."
I just cannot comprehend how people carry on following such horrendous loss and I applaud every ounce of courage they display in doing so.
Lily's said that it changed everything.
"I got really ill after he died and I was admitted into hospital and it was really quite touch and go for a few days.  It was amazing how my friends reacted so much more to me being ill than to actually what I felt was the devastating part. I couldn't have cared less if I was on my death bed."
"Even though what's happened to me has been beyond devastating, it's made me realise what I really have. I probably feel more compassionate towards things then I have previously. I spent a long time in a hospital bed and my outlook has changed."
"Everything has changed, I can't believe how much of my life I spent complaining about things."
Lily and Sam have been together for a couple of years but have known each other, and been friends, for many year.
Lily says that Sam is the love of her life, "Sam treats me differently. He's told me he'll look after me forever. That's what I've always wanted - someone to look after me. We've never had one argument and there's nothing about him that annoys me."
Ahhhhh isn't that lovely!! Now, fingers crossed everyone that this time round Lily gets a very happy and healthy ending.