Celebaby: Another Little Dahling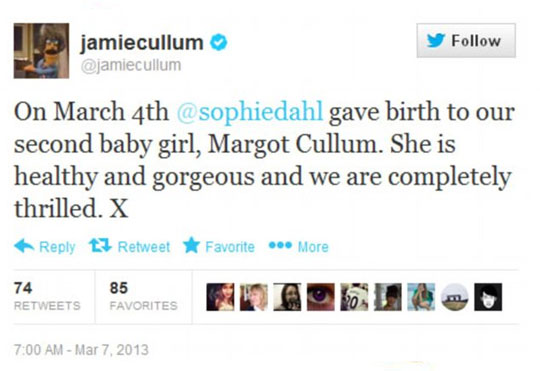 HUMPH!  Well here's another celeb' pregnancy that managed to pass me by - if Jamie Cullum and Sophie Dahl weren't as quiet and private as they are, I'd be worried that I was losing my celebrity baby touch!
However, when their first daughter was born on 2 March 2010, they gave us very little.  In fact, all there was was this, from their spokesperson:
"Musician Jamie Cullum and his wife, the author and presenter Sophie Dahl, have become parents. 'Their daughter Lyra was born on March the second. They are over the moon. They will not be releasing any further details about their daughter, including her weight and where she was born."
This time the announcement wasn't made by a member of staff, but posted by Jamie on his Twitter page:
On March 4th @sophiedahl gave birth to our second baby girl, Margot Cullum. She is healthy and gorgeous and we are completely thrilled
So much of the same, no more details other than her name and that all is well.
You don't see Sophie and Jamie out very often, and I've never seen any pictures of them with Lyra - I just ran a quick Google image search and there aren't any!  I kid you not, not a single one.  And you know what?  GOOD for them!