So that was that kindest way I could think of phrasing it - it was either that or Massive Mariah!
Curvey Carey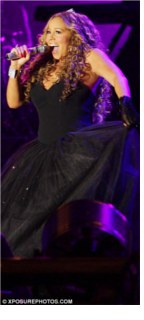 The 'is-she-isn't-she pregnant?' rumours which have surrounded Mariah Carey, for what feels like f-o-r-e-v-e-r, have just reached another level.
Pictures of her during a recent performance in Brazil have got everyone (well, everyone who cares anyway) all excited again, but there's still no official word from the Carey camp other than the odd teasing suggestion here and there.
It's getting rather tedious, in my opinion, and before too long, if there is a big announcement made, no one will be interested any more and that would be a bit sad.
So, not only is Mariah looking incredibly round and voluptuous but WHO on earth put her in those clothes?!  Were they having a laugh?!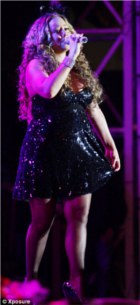 If you compare this possibly-pregnant wardrobe to, say, Alicia Keys' definitely pregnant wardrobe one is far more tasteful than the other - although, there was that rather unflattering jump-suit that she wore on stage a couple of months ago. 
Anyway, have a look at the photographs and see what you think. THEN combine it with this Tweet that Mariah posted after the concert...
Seriously, I really do love it here, beautiful people inside and out! Tonite was tuff (sic) 4 me 4 personal reasons, but U got me thru!L4L
...and tell me, what do YOU think? 
Has Mariah just been at the pies a bit too often lately or is she preggars?