Celebaby: What's In A Name and Claudia Bares ALL!
In today's Celebaby we look at how actress Amanda Peet and her hubby decided on the second name for their daughter and Claudia Schiffer bares all...literally!
You decide, no you decide, no YOU decide!

Actress Amanda Peet and her husband, David Benioff, have recently welcomed their second daughter, Molly June, into the big wide world.  That pesky volcanic ash cloud almost prevented David from being there for Molly's debut on the outside but luckily he managed to jump on a flight out of Rome to New York just in time.
However, a bigger drama ensued when it came to deciding on a name for their new arrival!
Amanda has revealed, "We were fighting about it a lot and you can't leave the hospital until you sign the paper with the name so we got right up to the point where the nurse was trying to usher us to leave!  We still couldn't choose between Maya June and Molly June. So finally David … tore off two little pieces of paper, wrote the names on each paper, and put them behind his back. I chose one of them and it was Maya and then I got really upset."
So there you have it!  If you can't decide on a name for your baby pick straws, put names into a hat or toss a coin and you'll soon find out which name you REALLY want after all.
Dare to Bare...?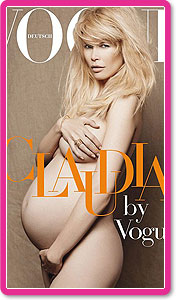 Supermodel mum Claudia Schiffer's certainly been brave enough to bare all for the cover of Vogue magazine.
Pregnant women across the globe are either applauding her for looking so great or sobbing quietly at the magazine stands and want to stick pins in her eyes for looking so great - if you're in the latter category, take heart as I'm sure the photographers' friend Photoshop gave a little bit of a helping hand.
There's no denying she looks stunning in this photograph,  and with all the right 'help' any pregnant mum could be look as good,  I just can't help but feel that pregnant celebrities baring all for the covers of magazines is a bit tired and passe now; ground-breaking and fantastic when Demi Moore first did it way-back-when, but now...?
Maybe I'm just being overly cynical and if you're a Claudia fan you'll be in the applauding camp, but for me it's just money for old rope and, I'm sure, a hefty increase to Claudia's bank balance.