Celebaby: Get Me To The Church On Time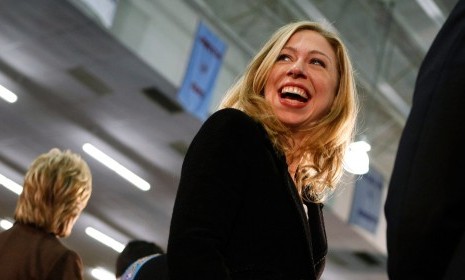 Do you regonise the 'girl' in the photo?
No?
It's Chelsea Clinton! So this Celebaby headline isn't some spurious link to a Charlotte Church story but refers, instead,  to Chelsea Clinton - a definite celebrity baby even though she is all grown up now - who's getting married today.
Chelsea Clinton's getting hitched!
The only child of former US President, Bill Clinton, and his Secretary of State wife, Hilary, is getting married today and forget 'wedding of the year', it's being hailed as the wedding of the DECADE!
Rumours about the wedding details have been RIFE, Chelsea and her husband-to-be, investement banker Marc Mezvinsky, are maintaining a dignified silence.
Mr and Mrs Clinton have given very little away either although on an interview for Polish television, Hillary did say, "It [the wedding] truly is the most important thing in my life right now," and I think that's lovely and just the way it should be and she's been reportedly signing off personal emails as 'mother of the bride'.
There has been a recent media blackout which, of course, has sent the 'paps' and journos into a complete frenzy!
Facts, names and figures being thrown around are that there are going to be between 400 and 500 guests - including Oprah Winfrey, steven Speilberg and our very own former head of Government John Major. However, current US President Barrack Obama will not be attending...he hasn't been invited.
The entire affair is said to be costing between $3 and $5 million, with air-conditioned tents adding a cool $600,000 to the bill and the flowers costing a mere $500,000.  The dress might be Vera Wang but that could just be gossip - those who know AREN'T saying!
The Federal Aviation Authroity have imposed a no-fly zone over the little village of Rheinbeck in New York State and local road access has been restricted.
I'm actually quite excited to find out all about it in the fullness of time - I hope they don't do  big magazine thing though, that'd ruin it for me - and I think the reason why is summed up nicely in this extract from a recent article in newsweek.com

"Chelsea Clinton is, perhaps, the first American since Shirley Temple who has been a household name since childhood but hasn't washed up à la Lindsay Lohan or temporarily gone loco like Drew Barrymore. When Chelsea moved to the White House, she was an awkward 12-year-old with frizzy hair and braces. Take it from someone who's been there: that's a really tough spot to be in, even if you're not in the public eye.
The next eight years were hardly a cakewalk for the first daughter. She had to watch her parents deal with Paula Jones and Whitewater, and her reward was getting to see Ken Starr air her father's dirty laundry (or, more literally, Monica's) in front of the whole world.
But somehow, despite all the mess and the drama, America got to watch Chelsea transform from an ugly-duckling tween into a mature, stylish swan with an impressive educational pedigree and a successful career. Perhaps because of her parents' obsessive efforts to keep her out of the spotlight, or maybe because of her tough genes (say what you will about Hillary, the woman's made of steel), Chelsea has made it.
She has degrees from Stanford, Oxford, and Columbia. She worked for a hedge fund and serves on the board of the School of American Ballet. And now she's getting married to Marc Mezvinsky, a successful (and actually kind of cute) investment banker who has been her friend since the two were teenagers. Chelsea could easily have crashed and burned—but, we realize with relief, there is hope left for her, and for us."
I hope she has THE most fantastic day and that it, and the future, is everything she wants it to be!