Celebaby: No More Church For Cruise?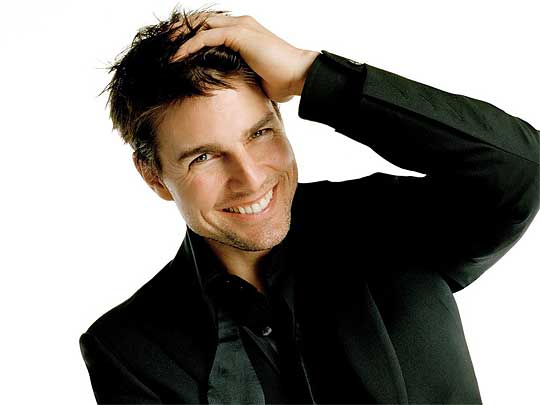 I used to have SUCH a crush on Tom Cruise, although the height 'thing' was always going to be a bit of a problem - six feet tall or more for me, otherwise it's no go; sorry Tom, I knew you'd be disappointed.
What happened to Tom - the square-jawed fighter pilot actor who seemed perfectly sane and rational?
He's now equally known for his devotion to Scientology as he is  for that iconic role in Top Gun, along with the Mission Impossible movie franchise.  The Church of Scientology, those within it who are close to Tom Cruise and the general 'strangeness' of it all, has been widely regarded as the main reason for his failed marriages to Nicole Kidman and Katie Holmes.
He's been following/practising Scientology since 1990 and the subject of much mickey-taking as a result (well it all does sound more than a bit bonkers!) but now sources are starting to whisper about Tom LEAVING the religion, in a bid to fix things with Katie.
Honestly, I thought that the revelation that Victoria Beckham smiled at the Olympics opening ceremony after-party was big news, but this trumps that!
According to one of these loose-tongued sources, Tom has become disillusioned with the religion, saying, "He's lost the most precious thing in his life, he sees that his Scientology beliefs may not have hurt his box office [success] but have ended not one but two marriages."
One of his closest friendships, within the church, is said to have 'deteriorated' and, apparently, Tom is now blaming Scientology for Katie carefully, and quietly, plotting and executing her escape from their marriage and the clutches of the religion.
She blindsided Tom by serving him with divorce papers back in June, citing, among other things, concerns for their daughter and the Scientology path being mapped out for her.
They say that truth is stranger than fiction - Tom Cruise, his involvement with Scientology and, now, his possible exit from it certainly bears this out!
Whilst all this is going on, Suri is a new pupil at a non-Scientology school and merrily chatting away on her iPhone to her little boy friend (not boyfriend), who also has an iPhone.
Six-year-olds and iPhones...a whole other Celebaby topic methinks!