Celebaby: No More Children For Amanda Holden And ANOTHER One For Tori Spelling (Already!)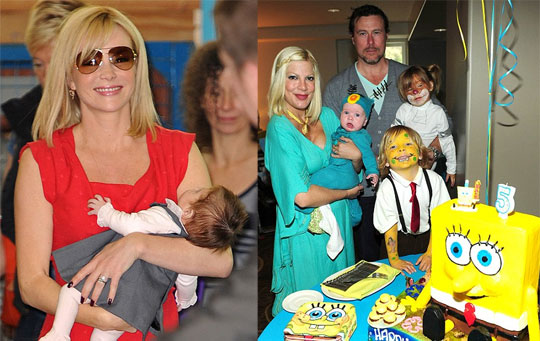 It won't come as a surprise to anyone when they hear that Amanda Holden has decided not to tempt fate any further by having any more children.
The utter horror of her unborn son dying at seven months gestation is something I'll never forget reading about; it was everything crossed whilst she was pregnant with her new little daughter Hollie, whose birth very nearly resulted in Amanda losing her life.
Amanda suffered a massive hemorrhage which caused her heart to stop and had to undergo emergency surgery.  Talking to Philip and Holly on This Morning, recently, she said, "I won't have any more children, that is it. And this is obviously what I am meant to have."
Very wise indeed; it all got more than just a little bit scary the last time!
Tori Spelling
Tori Spelling on the other hand seems to have gone a bit baby mad!  She had baby number three, Hattie, back in October and has just announced that she's preggars with baby number four - I'm telling you, the woman has lost her maternal mind!
I can't criticise too much because my two eldest children are exactly a year apart, in age, to the day - they're not impressed by this, but it's their own fault! If they'd arrived on their due dates then they would have been the same age for about three weeks, as it is it's something like 10 hours.
However, my logic was getting it 'all out of the way' in one go, not to just keep adding to my number!
Tori's husband, Dean,  did say that as soon as they knew Tori was pregnant with Hattie they'd have to have another baby afterwards, "As soon as I saw it was positive and it was a pregnancy, we both thought we need to have a fourth - at the same time."
Maybe they've got an aversion to odd numbers, which would suggest they'll stop at four.   But you know what, somehow I rather doubt it!