Celebaby: Cam Gigandet and DVO Maternity
In today's Celebaby we have Cam Gigandet for us PlayPennies mums and Denise Van Outen for the dads (and the mums!) *grin*
Cam Gigandet - forget hot mamas...he's a HOT papa!

Hold on to your hearts ladies because here's one of the hottest dads around (apart from the one to our own children of course....)
Cam Gigandet is hot poperty and you'll probably know him best from The O.C and playing BAD vampire James in Twilight.

He was spotted out about having coffee in Los Angeles recently with his girlfriend Dominique Geisendorff and their b e a u t i f u l little daughter, Everleigh - isn't that a stunning name!  Unsual but elegant and understated and I don't think she was drinking coffee...
There are few things more alluring than a man who's totally smitten with the women in his life!
DVO Maternity Wear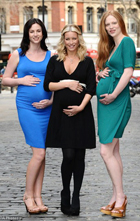 In theory, Denis Van Outen should be loved by men and loathed by women - she's talented, she's STUNNING, she's funny, she's clever, she's an independent career woman, she's stylish and she's got a hot husband (ok, maybe the men won't be so keen on that bit) BUT men fancy her something rotten and us women ADORE her!
Looking nothing less than fabulous when preggo too (ok...actually, maybe I'm not liking her so much the more I carry on...would it have been too much to ask that she looked less than jaw-droppingly beautiful at least once!) the lovely Denise has launched her new maternity range 'DVO'.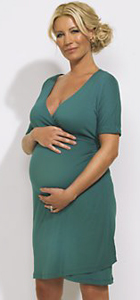 At a recent press launch she said...
"I am so excited about the new maternity collection I have created with very.co.uk.  It is designed for expectant mums, who want to be comfortable during their pregnancy, but don't want to compromise on style.
The collection is a mix of glamorous dresses and lounge wear with every piece made in soft and stretchy fabrics - perfect for gentle exercise and also for wearing post pregnancy."
The 16-piece collection is going to be available in sizes 8 to 20 and launches on Very today (27 March) and I've just had a quick scoot over there to have a look and at the moment there are only three dresses on the website.
They're lovely though and the price pitch is perfect in my opinion; if the rest of the collection is as good then I'd say Denise has come up trumps again!