Celebaby: Just Call Him Leonard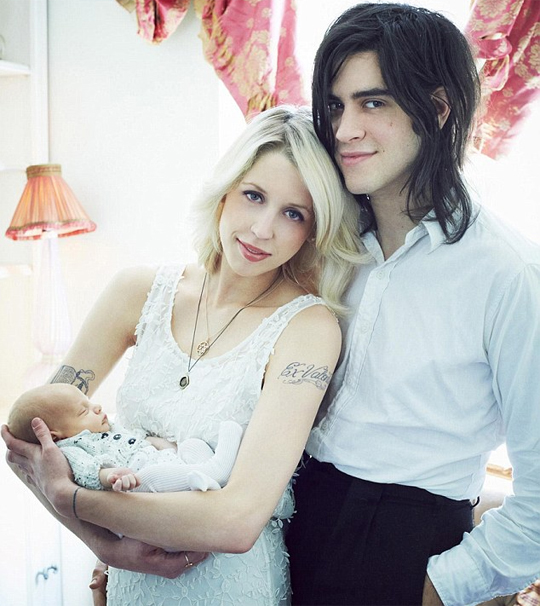 Peaches Geldof's new baby son is now a few weeks old and the obligatory (for some) glossy photo spread of his first pictures have appeared in Hello magazine, along with more details of his arrival.
Astala (yep, Astala) was born via c-section and apparently developed breathing difficulties after his dad, Thomas Cohen, cut the cord.
"It was the most terrifying experience, to have our tiny baby whisked away like that," Peaches is quoted as saying in the mag' interview, "I was yearning for that skin-to-skin contact I'd waited so long for and to not be able to hold him and nurse him and comfort him was so upsetting."
All is now well with baby Astala, other than the fact his grandfather wishes he'd been named Leonard instead!
He appeared on Lorraine Kelly's morning TV show (whatever it's called these days, I used to love watching Lorraine!) and didn't react well when she asked him how Astala should be pronounced, "Shut up, I don't know. I don't know, I haven't said it yet - I can't bring myself to say it! I wanted to call him Leonard - Leonard Cohen. "Have you met my grandson Leonard Cohen?"' 
Despite the lack of love for his grandson's name - which I think is a bit of a cheek bearing in mind the names his daughters have! -  it would appear that he is totally smitten with the new family member.
"Dad was incredibly gentle with Astala; he took him aside and was so quiet, which isn't something he's renowned for.  He's besotted with Astala because he's his first grandchild but especially, I think, because he's the first boy in the family," Peaches revealed.
And as far as Sir Bob is concerned?  Well when he was talking to Lorraine, he said, "He's a fantastic little chap. He is cute and they're really good parents so it's great. They're really happy."
Sounds to me as though everyone's happy; long may that continue - we like happy!