Celebaby: Another Bun In The Oven For The Olivers

BREAKING CELEBABY NEWS! The 'pitta' (hur hur) patter of tiny feet will once again grace the Oliver household as it's been announced that Jamie and Jools are expecting again.
Jamie's publicisit, Peter Berry, issued the following statement on their behalf:
"Jamie and Jools Oliver are delighted to announce that they are expecting their fourth child and Jools is due to give birth in September. The new addition to the family will either be a little brother or sister to Poppy, Daisy and Petal."
The new addition to the family will either be a little brother or sister.....NO!!! GASP! REALLY?!!  What were the other possibilities then...? This has to be one of the most genius and laugh-inducing press statements I've read for a long time.
Already outnumbered by women, four to one, in his household I wonder if there'll be a little boy on the gender menu for Jamie this time.
The three girls all have flower-based names - there's Poppy Honey (who's eight now can you believe!), Daisy Boo (she's six and a half already) and Petal Blossom Rainbow (who's just 11 months old).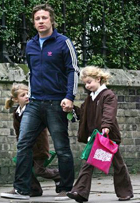 As I've been writing this, my mind has been frantically trying to come up with some boy-sounding flower names b u t I really can't think of any, the list of girly flower-names is endless, so I wonder what he will be named if he's a he?!'
Maybe they'll surprise us and call him....John!  Or maybe Trevor after Jamie's dad!  I'm going to put my money on Trevor featuring somewhere.
Whether they have a boy or a girl and whatever they decide to name him or her, here's wishing them all the best for a safe and healthy pregnancy.
Congrats!