Celebaby: Welcome Miss Bruni-Sarkozy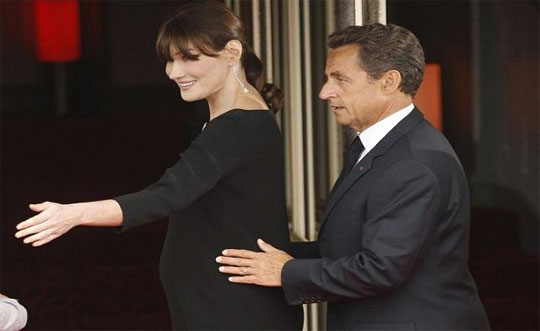 Well, the waiting's over for Carla Bruni-Sarkozy.  She's given birth to a daughter who kept her mother waiting for almost three weeks - get used to THAT Carla, my daughter was 11 days late and it set the tone for the 16 years that have followed!
The French President was at the clinic for a grand total of about 30 minutes before he left for a meeting with the German Chancellor, Angela Merkel, in Frankfurt - I'm intrigued, was he there for the birth?  Was he not?  Was this a quick visit to see his daughter again before he left, or the first time he'd seen her?
We're not likely to find out because so far, as promised, there hasn't been any other information released by the Elysee Palace other than the baby's gender.  Carla and Nicolas Sarkozy have been heavily criticised in the past for living their private lives in the spotlight; they seem to have listened and put a stop to flaunting Carla's 10-year-old son, Aurelien, in public.
Carla's also gone on to say that she's going to do everything she can to make sure this baby isn't seen, is protected from the media and that all sounds a little OTT to me, let alone impossible unless she's going to cover their faces with veils a'la Michael Jackson.
What's more likely to be snapped by a sneaky long lens is Mrs Bruni-Sarkozy having a sneaky cigarette out on the fire escape - well she can't go out the front, there are hundreds of paparazzi camped out there - she was recently quoted as saying she was fed up with the pregnancy because she couldn't do anything, "I can drink, I can't smoke, I just want it to be over!"
Someone send that woman some champers and a packet of Gauloises!