Celebaby: Brad, "I Always Wanted A Big Family"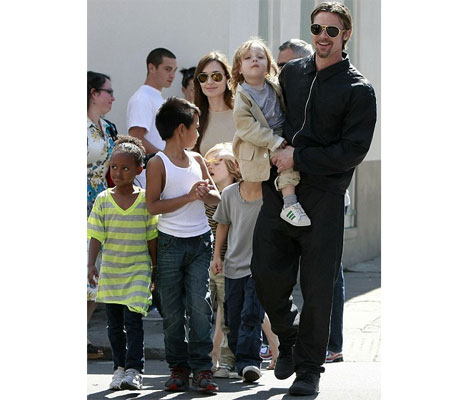 Brad Pitt has spoken about how he always wanted a big family; good job really, otherwise he'd be a bit unhappy and his life would be hell!
Can you believe that he's 47?! THAT makes me feel old - I used to have a big crush on Brad when he was young, clean-shaven and floppy haired; I can't say I'm so keen on the scruffy dude look.
He has six children with Angeline Jolie - three biological and three adopted.
"I had a friend who had a big family when I was a kid. I just loved the chaos around the breakfast table and the fighting and the ribbing, and the mom making pancakes for everyone or the dad making pancakes.

And I just decided then if I was ever going to do it - this left some indelible mark on me - if I was ever going to do it, that's the way I was going to do it."
I find it can be tricky enough organising and hearding three kids, and two of those are at the older end of the teenage spectrum, let alone SIX; the entire Brang' gang flew into Cannes earlier this week, it really must be like going on military manoueveres just to pop out! Do they have a minibus I wonder...?
If you enjoyed seeing Brad starring in films such as Fight Club then you might want to skip the next bit, for fear of disappointment.  He says he's chosing his film roles differently now because of the kids.
Brad recently voiced a character in Megamind and Angelina is one of the voices starring in Kung Fu Panda 2.
"'I'm a dad now. It's more important to me that if I'm going to do the film, there's something I can bring to it, it's not generic.
Most of all, I'm painfully aware that my kids are going to see these when they're older, and I want them to understand something about their dad, and I want them to be proud of their dad."
================
There's still no news on Pink's baby by the way - her due date was 18 April! There's not a whisper about any impending birth on her website or Twitter page; I hope everything's ok...