Celebaby: An All Boys Holiday (almost)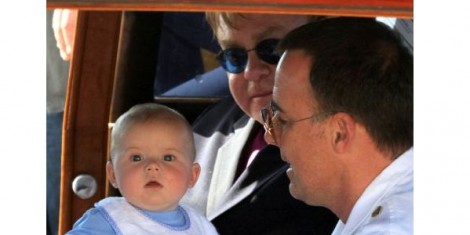 Elton John, David Furnish and their seven-month-old son, Zachary, have nipped off on holiday - how CUTE is Zach?!
They're spending time on board a yacht on  the Italian Med' and the South of France with Neil Patrick Harris, his partner John Burtka and their, now, 10-month-old fraternal twins Harper Grace and Gideon Scott.
All three babies were born to their fathers via surrogate, and there's been remarkably little news of any of them after the initial stories of their arrival.
I can only assume that's a good thing and that family life is calm, quiet and peaceful; the way it should be.
Neil Patrick Harris and Elton John have, apparently, been friends for a long time and always vowed that their children would have play dates together - yachting off the Italian Med'...now that's my kind of play date!
Neil's also found a spare moment to keep the Twitter world up to date, saying, "The family and I are having one of the best weeks of our lives."
It would seem that Neil has taken to fatherhood like the proverbial duck to water and has said that it's the smallest things about his babies that fascinates him the most.
"Gideon is a great burper!  Babies can burp! I've never been happier!"
He went on to say, "When they're unwell it feels awful. All you want as a parent is to make sure they're okay and that they're comfortable."
It sounds like everything is all just ticking along rather nicely in that little friends and family unit.