Celebaby: Bouncing Baby Bunton
Emma Bunton and Kate Hudson feature in today's Celebaby...
Emma Bunton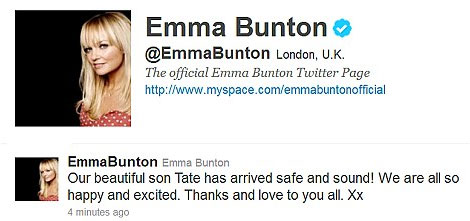 I resisted the temptation to title this Celebaby 'Another Baby Spice', I'll leave that to the trashy Red Tops.
Oh yes, the celebrity babies are all beginning to arrive now with Emma Bunton being the latest celeb' to give birth.
She had a little boy yesterday (6 May) who weighed in at 7lbs and he's been named Tate;  Emma posted this announcement on her Twitter page...
"Our beautiful son Tate has arrived safe and sound! We are all so happy and excited. Thanks and love to you all. Xx"
Emma and her fiancee Jade Jones are now the proud parents of two boys, their eldest lad is named Beau.
Two of the other former Spice Girls are preggars too - Victoria is due in July and Mel B around about the same time.
Kate Hudson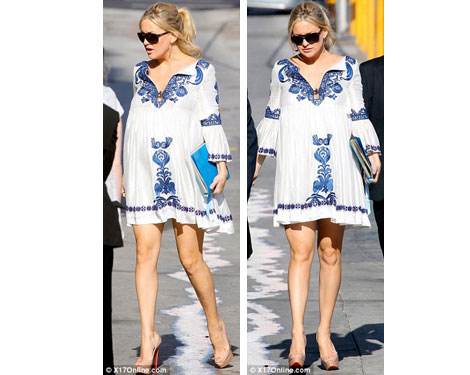 Celebrity daughter of Goldie Hawn, Kate Hudson is also on our 'celebrity expecting' list.
She was papped earlier in the week wearing THE highest heeled shoes I've ever seen! I want to know whether these celebs attend secret 'how to be up the duff and still wear killer heels right up until the bitter end' lessons, along with the usual 'ooh-ooh-heeee' antenatal breathing classes, because one thing's for sure there was NO WAY I could wear heels like that when I was pregnant!
Kate has also confessed that she's not remotely ready for this second birth.
Speaking on the David Letterman show she said, " We're getting close - weeks. Getting close enough to almost not be able to fly. I don't feel prepared. I can't believe how fast it's gone."
Kate's going out with the Muse frontman Matt Bellamy and both of them have refused to find out the sex of the baby before he, or she, arrives, "...this way, there's no expectation on what the baby is. You're not thinking about what they look like. You're literally just going: 'Is it a boy or is it a girl?"
Kate already has a seven-year-old son, Ryder, with her ex-husband Black Crowes singer Chris Robinson; this new baby is due in July.