Celebaby: Another One Bites The Dust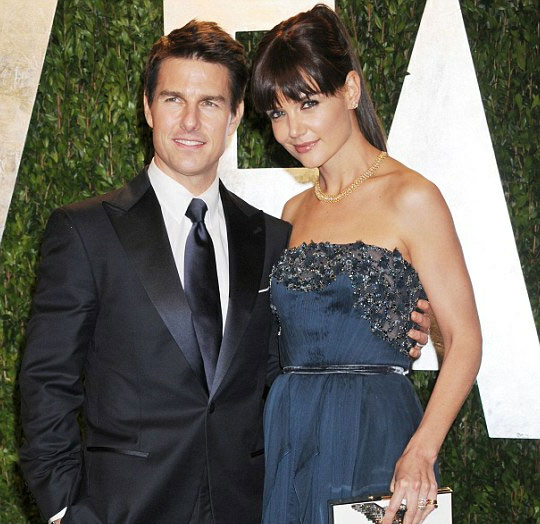 Unless you've left the planet to visit the moon you will not be able to avoid the 'top news of the day' that Katie Holmes has filed for divorce from Tom Cruise and is seeking sole custody of their daughter Suri.
According to the news - and I mean all news , it was even on Classic FM news on the radio this morning! - Tom was completely unaware that this shock news was heading his way.  The only statement that's been made by his 'people' so far is that he's 'deeply saddened by the news and is concentrating on his three children.
There are some things I think we can safely agree on
Regardless of how weird anyone thinks he is, or how 'odd' their marriage was, it's still sad when marriages fail, particularly when there are children involved.  Let's face it, no one gets married expecting things to fall apart (or at least not many) and
It'll probably get nasty!
Before Tom and Katie got married a pre-nuptial agreement was signed; it states that Katie would only get $3 million for every year of marriage, plus their home in California.
Only $3 million (I can see you rolling your eyebrows from here!), so as they've been married for only five years, Katie is only set to receive $15m - if she'd been able to stick it out for 11 years she would have been able to claim half of their combined $275 million estate.
Some are saying that's why she's filed for sole custody of six-year-old Suri - so she can claim, and has done so, if what we read and hear is true, 'substanstial' child support.
For a little girl with a wardrobe rumoured to be worth in excess of $3 million you can begin to image what that 'substantial' figure may amount to each year.
I'm sure this news will receive top billing for days and weeks to come rather than other things far more worthy of our attention, such as today being Armed Forces Day - you wouldn't sell many trashy red tops with that as your leading headline though would you!
Ohhh the top of that particular soap box is so high it would take me days to reach the summit, so I think I'll wrap this up now and just say RIP the marriage of Mr and Mrs Tom Cruise (for the third time) instead.