Celebaby: A Baby Girl For Kate Silverton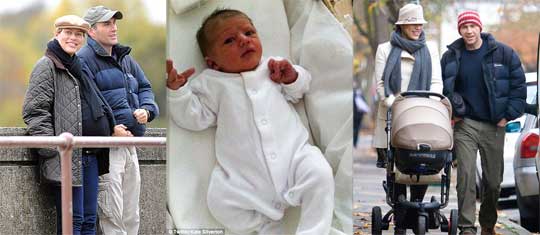 Last Saturday, Kate Silverton - the BBC news reader - gave birth to a little baby girl.  Actually she wasn't so little, she weighed in at a slightly eye-watering 8lbs 9ozs.
A statement was released through Kate's agent, which said
Michael and Kate Silverton-Heron are delighted to announce the birth of their baby daughter Clemency Florence Rose delivered naturally yesterday 5th November weighing 8lbs 9oz.  Kate says: "Clemency has big lips and big feet like her mummy". Mother and baby are doing very very well.
Celemency - I rather like that name, it's pretty, although you just know she's going to end up being called Clem' - was in no hurry to arrive and kept her mum waiting for a good few days past her due date before putting in an appearance.
I don't think Kate minded though, it's astounding that Clemency was even on the way at all - if you have no idea what I'm talking about you can find out HERE, in this Celebaby from June.
Then yesterday, Kate posted the first pictures of Clemency, taken at four days old, on her Twitter page.  She did say she'd try not to post too many, but a fair few found their way online in the end - Kate apologised, saying, "Clemency at 4 days old - sorry, just v proud and all the more special on a day like today."
Kate and hubby, Mike Herron, were spotted taking their first stroll out and about in the big wide world yesterday too; Kate has described this week as the happiest in her life and I can't say I blame her.
HUGE congratulations to her - a fabulous happy ending to an amazing story and a whole new beginning.