Celebaby: Baby Name Deadlock For Pink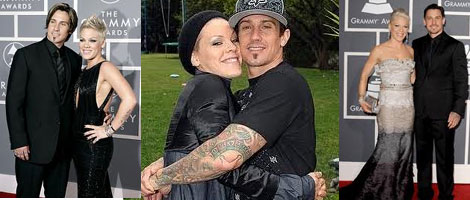 Deciding what to call your child is one of the fun bits of expecting...unless you can't come up with something you agree on!
In a recent interview with Access Hollywood, Pink revealed that she and hubby, Carey Hart,  are having just that trouble.
The singer is three months preggars and, no surprises, is favouring something quirky and different.  Her husband, on other hand, doesn't want his kids to have weird names - hurrah!
"We're all over the place. I'm all about meaning, and Carey feels like he had a girl's hair cut and a girl's name, and he doesn't want kids to have a weird name. I have to get him on the boat for originality, so I'm working on him."
All of that said, the current boys name being favoured is Jameson - I quite like that (I'm sure Pink will be thrilled to hear it!).
"My dad's name is James, and my brother's name is Jason. Carey and I are both Irish, Carey's middle name is Jason, and Jameson - we like whiskey. That's a no-brainer."
Pink says she thinks Carey is going to be a really, really cute daddy - ahhh the loved-up romantic naiivity that comes with expecting your first child; it soon wears off (hush my jaded mother with teenagers mouth!)