Celebaby: Another Baby Bump To Watch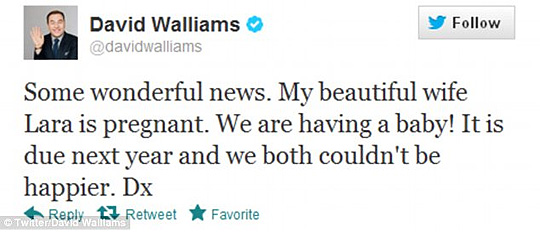 Well it seems as though the baby bump floodgates have been well and truly opened - David Walliams is the latest expectant father to announce his happy news.
An official statement was made last Thursday, which said: We're very excited to announce we are expecting our first child. We're both absolutely thrilled but ask you to please respect our privacy during this precious time.
And David took to his Twitter account, saying:
Some wonderful news. My beautiful wife Lara is pregnant. We are having a baby! It is due next year and we both couldn't be happier. Dx
It always makes me chuckle when people say, "we couldn't be happier," or "I'm over the moon!" I mean, no-one's going to say, "...and actually I'm not very happy about it at ALL!" are they!
David and his wife, Lara, have a Border Terrier called Bert,; he's often seen out and about with them and Lara has recently said, "A baby will ­probably never be as fun as Bert."
You know what, Lara?  You're right - puppies are much easier, they don't say 'NO!' and they don't grow up under the illusion that you're a one-woman taxi service and 24-hour cash machine.  I would advise you to stick with pooches...but it's a bit late for that now!