Celebaby: Baby Bump Joy For Adele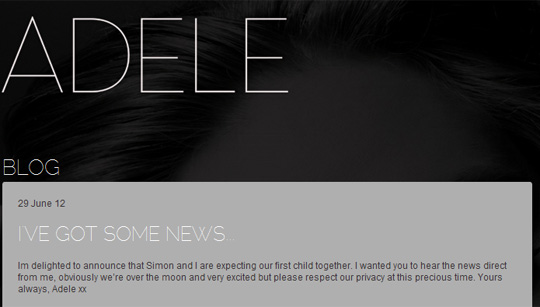 Adele is the latest celebrity to join the ranks of famous expectant mothers; news that she was expecting travelled fast after she announced the news on her website on Friday, posting...
I'm delighted to announce that Simon and I are expecting our first child together. I wanted you to hear the news direct from me, obviously we're over the moon and very excited but please respect our privacy at this precious time. Yours always, Adele xx 
Adele is 24 and her partner, Simon, is 36 - they've been together since last summer (that's when the weather's lovely and warm and there's not much rain - we're clearing not in summer yet this year!) and I hope Simon is ready for a big family, because Adele told People Magazine recently that she wanted to have three boys before she was 30 and how she'd better 'start getting on with it!'
In February Adele told a German magazine that she was going to be 'going away' for a few years so she could focus on her relationship (she didn't actually use the words 'going away', this is Adele we're talking about - she used two much stronger ones, I'm sure you can guess which), saying...
"If I am constantly working, my relationships fail.  So at least now I can have enough time to write a happy record and be in love and be happy.  And then I don't know what I'll do. Get married. Have some kids. Plant a nice vegetable patch."
Future track name suggestions:  Rolling in the beets? Chasing parsnips?
Okay so they're rubbish suggestions, but the baby news is GREAT; congrats to them both.