Celebaby: Two New Baby Announcements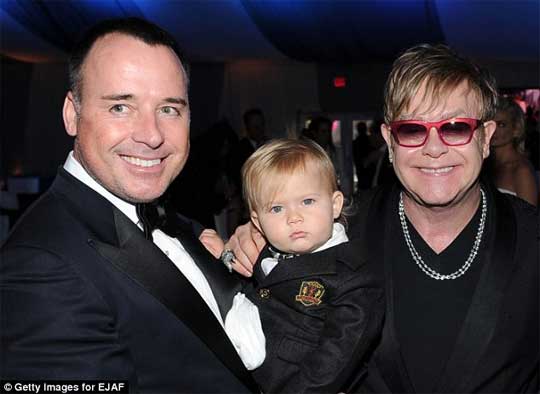 I was beginning to think the celebs had given up on the idea of having babies; there seems to have been a real baby announcement drought of late - a couple of new arrivals (Reese Witherspoon and Megan Fox) but no new bumps to watch.
It seems the 'bus rule' of waiting for ages then two coming along at once is applicable to celeb' baby bumps - although we won't be able to watch one of them.
You see, the first bump belongs to Elton John and David Furnish.  Yep, young Zachary, who'll be two next month (How can he be two years old already? That time has gone by far too fast!) will be having a younger brother or sister to play with sometime next year.
We don't know when the next little John-Furnish baby is due to arrive, but we do know he, or she, is being carried by the same surrogate used for Zac.  One of those useful newspaper sources says:
Elton and David love this lady like a sister and they feel indebted to her for life. Naturally she has been well rewarded, but her identity will never be revealed.
The other baby on the way belongs to Bryan Adams and his partner, Alicia.  They welcomed their daughter, Bunny, into the world a mere 18 months ago and, as yet, we don't have a due date for this new one.
Bryan made the announcement on Twitter, by posting:
Alicia's either eaten too much chocolate cake or we're expecting another baby... I think it's a baby
Hmmm, I think I'd rather have chocolate cake!