Celebaby: Alex Reid - Minister For Children?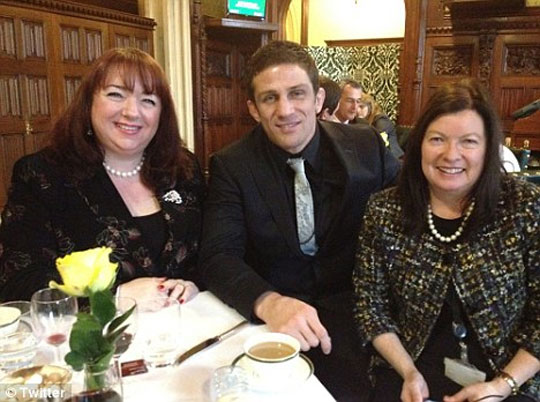 What a mish-mash of baby news I have lined up for you today (I use the word 'news' very lightly by the way)!  Alex Reid has been to Parliament and had lunch with two MPs (I kid you not!), Michelle Heaton has had one of the most badly drawn tattoos I've seen in a very long time and Beyonce is hailed as being back in shape, I think she just looks overweight!
Alex Reid
I tell you, it's stranger than fiction - Alex Reid attended Prime Minister's Questions at the House of Commons yesterday, went and had lunch with a couple of MPs and then tweeted, "Fantastic lunch meeting with @sharongodgsonMP @robertawMP let's get this country sorted!"
Are you KIDDING ME?!  I know I've been out of the country for a month but to come back and find Alex Reid mixing with members of parliament, and wanting to change the world is all a bit much!
He attended PMQs and had lunch with MP Sharon Hodgson, Shadow Minister for Children and Families, and MP Roberta Blackman-Woods, Shadow Minister for Planning, because he has decided to go a bit Jamie Oliver on us and wants to improve the state of the nation's school dinners.
Who'd have thought it! It could be one of the biggest personality turnarounds in history - from cage-fighter and ex trollop's husband (I'm talking about Katie Price there, not Chantelle - although maybe in the future that might read 'ex trollops' husband!') to MP and fighter for national causes!
Michelle Heaton
Michelle Heaton had a baby girl back on 12 January and called her Faith - I tell, you that little girly's going to need a ton of the stuff as Katie Price is going to be her god mother!
To mark the momentous occasion she's had a tattoo - the name Faith with three red love hearts underneath - and it looks as though someone did it following a Tattooing for Dummies book, it really is very badly done! What do you think?

Beyonce
Now, Beyonce's always been curvy but to say she's back in shape (at least from the pictures I've seen) is jumping the gun a bit!
I. DON'T. SEE. IT!  She just looks overweight to me.  It's funny, if she was a different celeb' the press would be calling her fat - it seems there's one 'curvy rule' for one and a 'skinny rule' for another.  No wonder so many people just give up and eat chocolate!
And you remember the fake preggy belly rumours from a few months ago?  Well those whispers have started again in light of her 'back in shape' look- the entire celebrity world has gone MAD!