Celebaby: Welcome Alaia-Mai Humes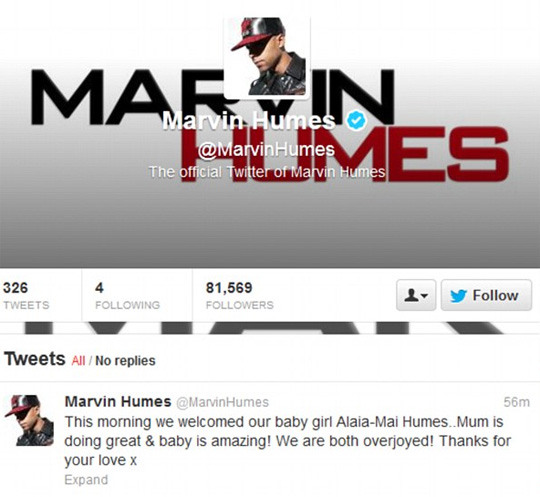 Rochelle and Marvin Humes have welcomed a baby daughter into the world and named her Alaia-Mai - Alaia means joyful, and Mai translates as ocean or elegance in Chinese
She was born yesterday morning and was clearly in no rush to arrive, as her arrival date was supposed to be Friday 10 May! No wonder it felt as though Rochelle had been preggars for ages.
Like all self-respecting socially-networked celebs, Marvin revealed the news on his Twitter page.  He's been very forthcoming and gushy about his impending fatherhood, since Rochelle tweeted the news back in November, saying things like:
"I'm feeling massive excitement. I'm definitely ready for it, it's not anything that scares me. Rochelle is the most beautiful pregnant lady," not that he's biased, of course.  "We are both at a great point in our lives and we are in a relationship in where we both feel comfortable to extend our love. It's amazing, incredible and we can't wait."
Rochelle's tweeted a fair bit too; by far my favourite tweet from her, though, was when she put a stop to the rumours that she'd gone into labour, writing, "Heard on Twitter that I'm in labour. Thanks for letting me know guys hahahahaha..I hope this is what it feels like cos I'm chillin!"
So that's two Saturdays babies now, and a third one on the way too - Frankie Sanford has recently announced that she's expecting too.  Three down and two to go then!