Celebaby: Sometimes You Have To Wonder...
Now, I'm all for everyone having the right to choose what they do with their lives. But when those choices are NOT good and they impact on children, then I start to wonder whether some people just shouldn't be allowed to procreate at ALL!
"My daughter love Sandra more than me!"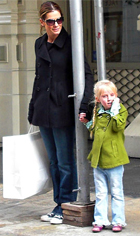 This is the lament of Jesse James' ex-wife. Porn star and self-confessed drug addict, Janine Lindemulder, is currently fighting for custody of her six-year-old daughter, Sunny.
In documents lodged with the court late last week, she complained, "All Sunny talks about is Sandy, Sandy!"
She also went on to say, "I am so depressed. Sun is suffering. I can't even find the energy to play with her. It's 9:30 and I don't even know what she ate today... Not being awake makes everything better."
Lindemulder has also admitted she agreed to spend the night with a man for $25,000...yep, all looking GREAT there for winnng custody Janine and I can't possibly see why on EARTH your daughter would prefer to be with Sandra Bullock than you!
No Alcohol for Jordan

Talking of people who should procreate, Jordan and Alex held their umpteenth wedding farce at the weekend - I've lost track of how many weddings, blessings and curses they seem to have had already.
Jordan has fuelled the rumour-fire that she might be pregnant already by not touching a drop of alcohol for the entire day; I am truly scared, please let this not be true, please don't let another innocent  little person be born into this hateful pantomime.
I really couldn't care less, but apparently the day was full of the anticipated drama and digs at Pete - who must thank his lucky stars EVERY day he wakes up not being married to her anymore.
Oh, and 'behind the scenes' - would someone like to tell me when Jordan does ANYTHING behind the scenes..? - Katie is scared that Alex is going to cheat on her. That Source with the big mouth has been blabbering to the press again saying, "Alex insists he's in love with her but she's convinced he'll end up cheating."
You know, I wouldnt' be surprised if 'the Source' isn't one day revealed as being Katie herself...
(it also amuses me greatly that it looks like she's eating cheese and pineapple on a stick in the above photograph - class!)