Celebaby: £2.5M Weight Watchers Deal For Jessica Simpson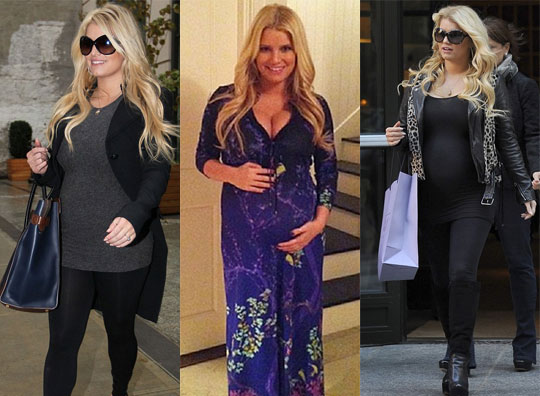 If you're preggars and piling on the pounds, I bet you wouldn't be anywhere NEAR as bothered if you had a £2.5M deal, almost in the bag, to promote Weight Watchers afterwards!  Which probably explains why Jessica Simpson clearly isn't bothered about her ample pregnancy figure.
The Beckham clan are reportedly on the move and Justin Bieber has taken THAT paternity test, apparently.
Who Ate All The Pies?
Well Jessica Simpson and her baby did or, rather, still are! With a few more months of weight gain potential to go, Jessica Simpson is reported to be in talks with Weight Watchers.
Both them and her must have thought they'd died and gone to marketing heaven when they discovered she was pregnant; apparently, she was already in talks with the weight loss company and looking at being another celeb' face to have lost a bit of extra weight with them.
THEN came the baby and the opportunity to pile on LOADS of weight and subsequently lose it with everything Weight Watchers (and, I bet, a personal trainer to whip her into shape too - he/she won't come with YOUR Weight Watchers membership though....ohhhh the cynicism!).
Having been silent about her pregnancy for so long, it must be a relief for Jessica to be able to talk and tweet about it; she's doing both with gusto!
"I feel great, I honestly do," she's said recently, "Pregnancy is a friend of mine, so everything has been running smoothly. So far, so good - no morning sickness. I feel great. I'm tired, but you know, I'm making a baby here!"
Beckhams On The Move
Talk that David Beckham is moving from LA Galaxy to Paris St Germain is getting louder; talk that Victoria Beckham will be tasked with house hunting in one of the clothing capitals of the world is even louder.
She's going to be looking for a 'little' pad in the 6th Arrondissement, one of the posh Paris districts (NEVER get the wrong one, some of them are less than salubrious!), and for English speaking schools for the boys.
I feel a bit sorry for the boys; sure they have everything they could possibly wish for, but I doubt that lessens the wrench of having to leave all your friends behind in a country you're settled in, let alone to a country that doesn't speak the same language as you.
Still, I'm sure they'll be just fine; I wonder if Harper will end up being bilingual as a result of spending her formative years in gay Paris?  THAT would be a bit of a gift for her.
Justin Bieber
He's taken the paternity test, then took Selena out for a good old fry up brekkie; class!