The Moa Green Balm Review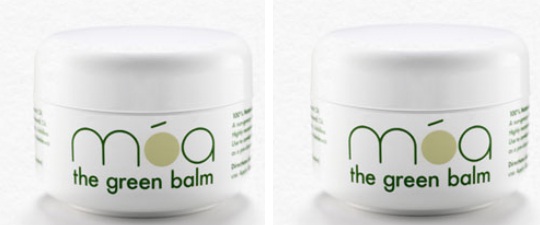 My little girl is going through a phase where, I think, her legs are growing faster than her ability to use them. At the moment she's covered in little bruises from crashes, bashes and mad mishaps. It's a bit like join the dots on her legs – we even did that the other day and are pretty sure we got a picture of a duck.
Anyway, I got some Moa Green Balm which comes in a tiny little pot of green goodness and is designed to soothe and ease those bumps and bruises and grazes naturally. The balm is made from natural ingredients – a big plus in my book – and includes Yarrow which was, amusingly, originally used to heal sword wounds. Hopefully you won't need it for any of those.
The balm smells lovely, almost minty, and it fits perfectly into handbags, purses and little pockets. It costs around £4.99, which IS expensive, especially for such a tiny pot, but it lasts for ages. My daughter helped herself to the little pot and ran off with it.  She said it helped her bruises feel better and I never expected there to be any left by the time I'd had a chance to find it again. And there is LOADS left.
The balm has soya bean oil, sweet almond oil, coconut oil and beeswax and feels utterly soft and decadent when rubbed between your fingers. I've used it on a nasty graze of my own instead of the usual sprays and found it to offer a far softer form of relief and that healing felt faster. And that says a lot as I'm quite sceptical of these things. I also like the fact that you can use it on insect bites and it TOTALLY calms my excema and for that I am eternally grateful.
The Moa Green Balm is gentle, smells amazing, looks and feels lovely and works. It is, however, far pricier than standard options.