The Madeleine St Clair Review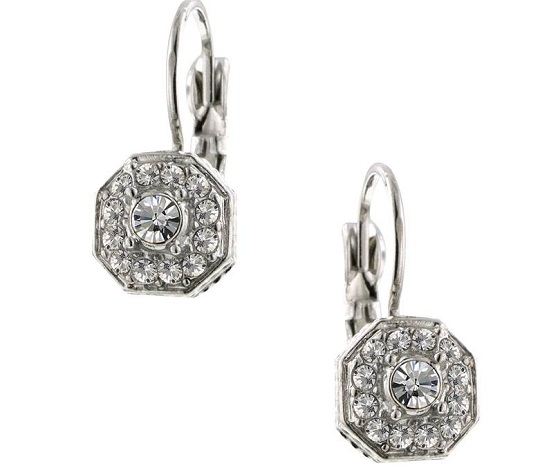 I'm not very good with jewellery. I never buy it and when I do, I only wear it on special occasions. I'm not sure why the bug has never bitten but it hasn't. So when I when I was given a pair of Madeleine St Clair earrings to review I was worried. Would I know what to do?
The answer is a very simple – yes! The earrings were sent to me in a lovely little box, wrapped in sheer gauze and secured onto firm white board. They glittered like a magpie's dream and I couldn't help but reach over and stroke them as they lay on the counter. How they sparkled!
Gorgeous doesn't even begin to describe these earrings from Madeleine St Clair which are silver tone and crystal with a round drop and a truly lovely design. They are square and don't hang off the butterfly like the usual earring, instead they loop up and around, securing onto your ear lobes with a very chic and subtle connection.
If you look closely at the picture, you will see how much effort has gone into the detail of these Madeleine St Clair earrings. Plenty of sparkle, lots of style, not too much bling or over the top drama and the result is a stylish piece of jewellery that can be worn down during the day and dress up any outfit at night. These are the perfect gift for mum from dad on the day that baby is born. They are absolutely high enough quality to make mum beam, and low enough in price to make dad sigh in relief.
I think what really surprised me about this range of jewellery was the price. What are you thinking they cost? A pair of designer earrings that are not sold as a bog standard across the planet? I bet you were not expecting me to say £35. Yeah, they get a huge point boost for the price range alone. Take a look at what's on offer and you'll see jewellery that can fit most budgets and will make lovely gifts.