Personalised Wooden Alphabet Name Train Letters 99p Delivered @ eBay Seller: gets-u-goin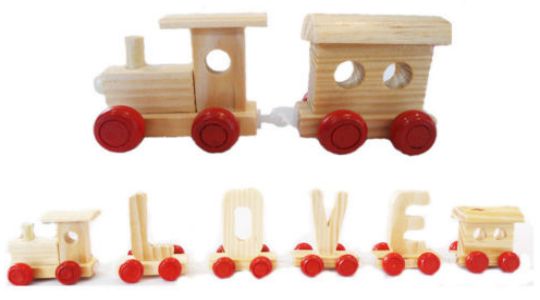 Looking for a nice New Baby gift? Or even just a nice keepsake for a little one? I have always been a fan of these Personalised Wooden Name Trains that you get. They are traditional looking and are a great feature in a nursery or bedroom. eBay Seller: gets-u-goin are selling each piece of the train for 99p and that includes FREE delivery.
To have a complete train you will need the Engine and the Carriage, and of course each letter of the name you want. If I was wanting to make one for my son Ben it would only cost me £4.95 delivered. As I would need to buy the front and back of the train plus three letters.
Each piece is made from wood. I guess you could even paint them yourself if you are after set colours for a bedroom. Do bear in mind that these are not toys but they are best used for ornamental use. Stick them on a bookshelf or a window-sill.
If you change your mind for whatever reason, you can return them back to get-u-goin but this will incur a carriage charge.