Massive Savings In The Pampers "Week Of Wonder"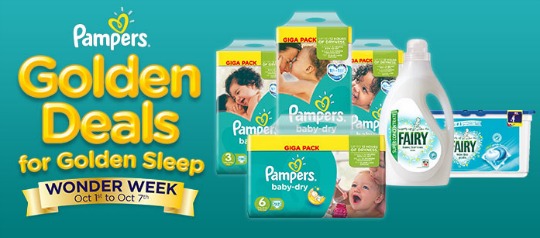 Nada already told us about the huge savings to be had on Pampers nappies and wipes at Tesco Groceries this morning, but if you don't shop with them then you are still in luck!
Pampers are having a massive promotion involving ALL major stockists, so wherever you shop for your nappies there is going to be a great offer on. Normally companies spread their offers out so that are in offer in different places at different times, but this is certainly a new way to go about things. Here's the best ways to stock up in the Pampers "Week Of Wonder":
Amazon*: 50% off your first order when you Subscribe and Save with Amazon Family, then you still get 20% off all your other Pampers Subscribe and Save orders after that!
Asda*: Pampers Baby Dry Giga packs are 3 for £39, and you can mix and match across the sizes if your child is near to going up a size. Also, Jumbo Packs Of New Baby nappies are 2 for £15, and there are offers on Fairy Non-Bio in partnership with Pampers too.
Boots*:  Buy 5 essential packs of Baby Dry or Active Fit for £30, also special purchase Monthly Packs for £33 each. Pampers New Baby jumbo packs are 2 for £14.50 as well.
Ocado*:  Buy 6 essential packs of Active Fit or Baby Dry and get 3 free, Pampers New Baby jumbo packs are 2 for £14
Morrisons*:  Buy 10 Baby Dry essential packs & save £25. Buy 8 Active Fit large packs and save £30.Buy 2 essential packs of New Baby-Dry Pants for £12
Waitrose*:  Buy 5 carry packs of Active Fit or Baby Dry for £15 and save £10
Tesco*:  Spend £50 on Pampers nappies & wipes & get £10 off your next shop. New Pampers Baby-Dry Pants essential packs are £6. Plus those stacking eCoupon codes that Nada told us about to save even more.
These are just the headline offers, and you will find that each store has several Pampers offers that are exclusive to them, but all are on at the same time, and run until 5th October.
If you have a choice of retailers nearby that you can use then it's just a case of comparing the offers in the specific products that you use, but wherever you buy your Pampers stock up now!