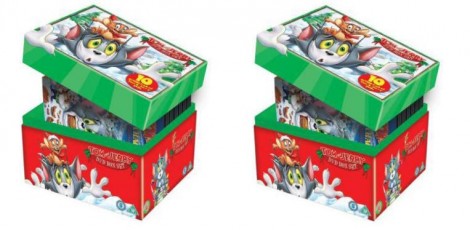 Everyone in our house likes Tom and Jerry. I have no idea what the appeal is! Even though it seems to be on an almost continuous loop on the Boomerang channel, it never seems to get old. It is about the only TV that we all enjoy watching. Really. Son and husband might like to bond over Top Gear but I've seen them all far too many times now! Zavvi has reduced this box set from £29.99 to £17.85. Delivery is free in the UK.
Of course we all have our preferences. My other half only likes the Fred Quimby episodes, whereas I also really enjoy the ones made in the 40s/50s. My son, on the other hand, likes anything to do with Tom and Jerry no matter when it was made. This box has a pretty good range. Something for everyone!
You get:
1. Tom & Jerry meet Sherlock Holmes
2. Tom & Jerry Charistmas: Paws for a holiday
3. Tom & Jerry: A nutcracker tale
4. Tom & Jerry: The fast and the furry
5. Tom & Jerry: The magic ring
6. Tom & Jerry: Blast off to Mars
7. Tom & Jerry: Shiver me whiskers
8. Tom & Jerry: Classic Collection Vol. 1
9. Tom & Jerry Classic Collection Vol. 2
10. Tom & Jerry Classic Collection Vol. 3
Thanks to whizzkid at HUKD!