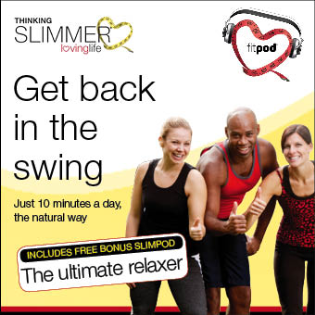 Thinking Slimmer have a huge reduction on their Get Back In The Swing CD to help you 'retrain your mind' (I can't help but say that in Professor Trelawny's voice from the Harry Potter Movies!) and get back into fitness. The CD is normally £29.99 reduced to £2.01 plus £2.99 postage, so it's a really good saving.
Feel energised to get fit with the Slimpod
Whether it's science fiction or genius, the Thinking Slimmer success stories page is full of stories of people who've used this form of self hypnosis to lose weight and change their lives. I used the Chocoholics Cure CD a few years ago, which was a huge help to me because I was eating a couple of chocolates a day at that stage. Whatever it did, or whether it just gave me the motivation I needed, it worked.
The Get Back In The Swing CD 'retunes your mind to think differently' which they say will give you more energy and motivation. Apparently it'll turn fitness into a pleasure - the jury's out on that for me!
Fitpod user Jackie Newman says: "I'm amazed at the difference in myself. I was a real couch potato, any excuse not to walk, even to walk the dog. As soon as I started listening it made me walk more. The best part of it is that I loved it. I walked with my head held high and a smile on my face."
At the moment, the CD also comes with The Ultimate Relaxer, worth £17.99 which you can use at any time to help reduce stress and promote inner well-being.
At £5, it's worth a try!