Star Wars Bust-Ups Box Set £2.99 @ Play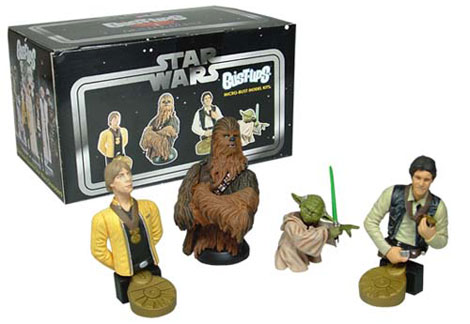 A long time ago in a galaxy far, far away...Star Wars Bust-Ups box sets were selling for £2.99 at Play.com instead of £9.99!
But rejoice, Star Wars fans, because this deal wasn't a long time ago in a galaxy far, far away - it's here and now!
My youngest is a massive Star Wars fan! Just huge! I told him I was going away to Africa for a while the other day and he said, "Will you bring me back a present?"
I said, "Of course my baby! Do you have anything in mind?" thinking he'd come out with something thoughtful, culturally relevant and profound, I know he's only four but he can be a bit like that.
This is what he came back with, "Yes I do, something Star Wars please that they don't have at Toys R Us!"
It was priceless!
You get four figures in this box set - Yoda, Luke Skywalker, Han Solo and Chewbacca.  They stand between two and three inches tall and the blurb says they fit together like a kit - I've looked and looked at the pictures but I can't work out how they'd fit together.
Play have reduced these Star Wars dudes down to £2.99 from £9.99 and according to andywedge over at HUKD who spotted this deal (thanks Andy!)
the individual figures are selling for £5.99 each on that internet auction website.
There's no delivery to pay on UK orders at Play.com so an absolute deal this is!