Shiva Rea Mother And Baby Yoga DVD Review
We've been reviewing the Gaiam Shiva Rae Mama and Baby Yoga DVD (£9.99) and I have to apologise in advance for the potentially rambled nature of this post. See,  I find this DVD very emotional, which makes absolutely no sense, right?
When my first was a bump, I did prenatal yoga, and once she was six weeks old we started doing mum and baby yoga. It was wonderful, and bonding and beautiful and all those good things. With my second, I got my hands on a bunch of different pregnancy exercise DVDs and with the best intentions in the world popped  one into the DVD player. It took my toddler about two minutes to start 'riding' my back like a horse, and that was the end of pregnancy yoga. (Unamusingly, she did the same while I was in labour, bearing down, with no one believing that I was about to have a baby, which I did about an hour later!)  I found this DVD emotional, because it gave me an opportunity to have a similarly bonding experience with my new baby, which I hadn't realised up to that point that I had been missing.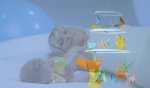 Let me start by saying I loved this DVD. I felt like it was narrated by someone who understood motherhood. Comments like 'this exercise is useful for your back, which takes so much strain in the early days of motherhood' made me feel like it was meant for me.
I love that the exercises are in twenty minute 'chunks', which means they fit in perfectly with nap time, or while my husband has the toddler in the bath, or out to the shops for bread.
The exercises are aimed at mothers, with actual exercises for mothers, rather than the type of yoga I did with my daughter which was really more for babies, with a few stretches for mums.  The first is Mother's Body Toning which is floor work, incorporating effective stretching and toning poses to firm up post-baby bodies.
The second section, Rising Up, has standing poses to strengthen and lengthen muscles.
Third is Core Practice, which focuses on the core muscles, regaining muscle tone and uses gentle lifts and resistance work with your baby.
There's also another section with 'de-stressors'  - moves you can do during the day to focus on specific stressor areas, like the back, and so on.
Mama & Baby Yoga has a run time of 60 minutes, but as there are 20 – minutes chunks it's easier to fit it into your day, especially if you don't spend 20 minutes just getting to or from a class.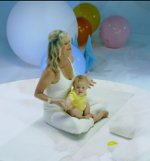 Normally when you see a yoga video, it's filmed in nature or a studio and has very ethereal music. The first thing that caught my attention with this DVD is the venue: it's like a  nursery, with origami mobiles and floor structures and birth and bouncy balls of different sizes and colours scattered around the room. It's a truly unique – at least in my experience – setup. Also, while the music is very soothing, it isn't that 'new age' style music, but rather a little 'we're all going on a summer holiday', but as it would sound if played on a playgym or night light. It's lovely.
That said though, even if I finish a 20 minute session, I let the rest of the DVD run through, because it's just so relaxing and calming.
The video work on the DVD is very professional. There's no 'someone with a hand held recorder' feel about it. In fact the whole composition of it is professional and enjoyable. There's no 'cringe factor' either (you know, the way super yogic people sometimes make you feel?
It says the Mother and Baby Yoga has a 60 minute run time, but actually there's nearer 105 minutes  on the DVD, with interview bits and so on at the end.
Embarrassingly, I could not believe how stiff and inflexible I've become in the last two years! I can just about touch my toes still! Oh, and if you have a laptop, I recommend following the floor exercises on the laptop, especially in the beginning, so you don't end up with a stiff neck!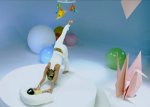 The Good
Well, everything I've said above really. It's a lovely DVD.
It's friendly, simple to follow and not at all irritating.
The exercises can be done with, or without a baby, so if you can do 20 minutes during a nap, you can do it child-free, but should baby wake (and not be ravenous) you can continue and include them.
The Bad
I'm not sure if it's because it was a preview sample or whether they're all like this, but there was no menu, so to get to the second or subsequent exercises you have to forward through, rather than just go to the menu.
You have to actually get up off the sofa and do  the exercise. Sitting watching it doesn't do anything for your body, bonding or fitness.
The Verdict
Having run the gambit of exercise DVDs in my life, and never sticking with them very long, I was sceptical, but I actually enjoy this DVD. It's lovely, and watching it and following leaves me feeling more relaxed, has endorphins pumping, oxytocin flooding and makes me a better mummy to both my girls.