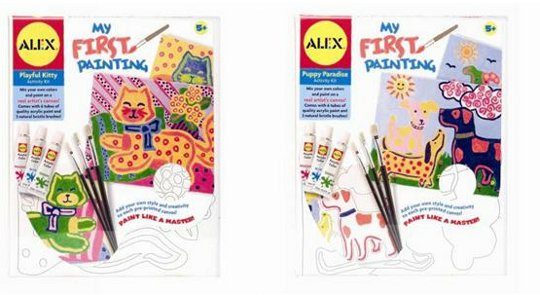 Play.com have taken £4 off the My First Painting sets from producer Alex. They are selling Puppy Paradise and Playful Kitty for £5.99 instead of £9.99.
At first I thought these were like the paint-by-numbers sets from my childhood, but it seems they're not. With the Activity Kits from Alex, you'll get three different sized natural bristle brushes and three acrylic paints along with a stretched, pre-printed canvas, so that little ones can paint like a real artist, but have the freedom to create their own masterpiece.
The canvas is a 10" x 12"and along with paints and brushes, you'll also receive a pallet and a colour wheel.
This is listed as being suitable for children aged 5 and over.