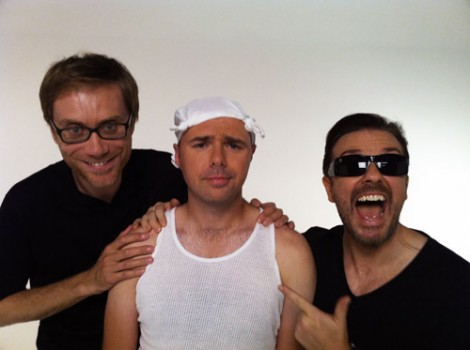 An Idiot Abroad is possibly one of the funniest shows to come out of 2010. Whether you are a fan of The Office or not, the dry humour and agonising wit of the Ricky Gervais mind and Stephen Merchant brain are everywhere in this series. And HMV are selling An Idiot Abroad for only £6.99. Bargain.
An Idiot Abroad is, essentially, a mockumentary created by Ricky Gervais and Stephen Merchant as they send their long suffering whipping boy, Karl Pilkington, on a quest to discover the Seven Wonders of the World.
Packed with humour, cringe-worthy moments that will make you laugh, and genuinely bizarre occurrences, An Idiot Abroad is fabulous fun for parents. I have not watched the entire series so I am not entirely sure if it is suitable for kids, my gut says NO.
But why can't parents get something for themselves to enjoy after the kids have gone to bed. A glass of wine, a good meal and An Idiot Abroad, and you have the makings of a fabulous evening at home. Romantic, no. Fun, yes.
Thanks to joeeeallover at HUKD!