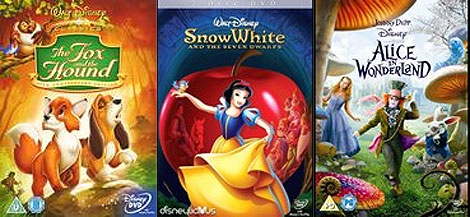 Amazon currently have a promotion on Disney DVDs - buy two for £12.50 - which runs until 11.59pm tomorrow (Sunday 24th).
I have a bit of a love-hate relationship with Disney DVDs – I love to have them, I hate paying over the odds for them just because they're made by Disney.
AND I really despise it when they put titles on limited release, 'buy this hugely overpriced Disney DVD now because we're not going to release it again for another 10 years at least. THEN we'll release it as a 'Special Edition' version just so we can charge you EVEN more!' ARRGGGHHHH.
It's almost enough to make me NOT buy Disney DVDs but then along come deals like this and I fall in love with Disney all over again.
All of my old childhood favourites are included in this Disney DVD deal:
The Rescuers, The Aristocats, Pete's Dragon, Sword in the Stone and Dumbo.  The modern 'classics' are there too - Ratatouille, Up! Finding Nemo and The Princess and the Frog (the only one of those I've seen is Finding Nemo!).
You don't have to do anything to get the discount, there are no codes to enter at the checkout or any of that malarky - just choose the ones you want and Amazon will sort everything else out for you.
OH, I almost forgot to tell you - if you are into Blu ray versions then you can buy two of those for £16.50.
Happy Disney DVD viewing.