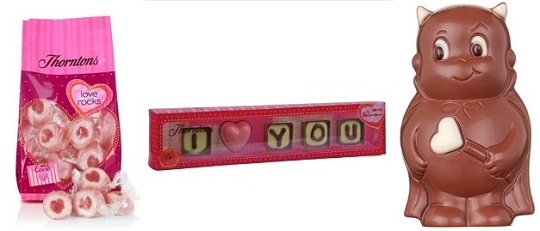 My view is that if you're going to say anything on Valentine's Day say it with chocolates. Well that might just be me, but I can't be the only person who loves nothing more than cuddling up with a chocolatey treat?
Personally I think that all chocolates are pretty much right for Valentine's Day, you don't actually need to make a special range with that as the theme. Especially if you're a chocoletier named Thorntons. But no. It would seem that not satisfied with making some of the most delicious chocolate treats known to mankind, they also have to make some stuff specially for this one particular day of the year.
I received three items from the range for review, and I have to say I gave them a thorough testing! What I found interesting is that these are not expensive sweets or chocolates. In fact, they were all priced at less than a fiver. A nice way perhaps to add that little bit extra to your day when you're on a budget.
Thorntons Love Rocks
Love rocks, baby yeah! This gorgeous looking bag of sweeties, the Thorntons Love Rocks, sell for just £1.25 for 162g. Now I have to say, the Love Rocks are a lot of things. They're sweet, yummy, and very more-ish. But there's one thing they aren't and that's rock candy.
Once I'd got over my disappointed expectation, and by the time I was on the third candy, I didn't really care. These are delicious. How to describe them? Well they're kind of like boiled sweets in texture. But with the flavour of rock candy.
They're strawberry flavoured, and have a heart motif through the middle. According to the website they're hand crafted in the Thornton's factory to an original Thornton's recipe.
I Love You Cups
The Thornton's I Love You Cups are another inexpensive treat at £2.99. Actually the chocolates really say I Heart You. Which is kind of nice and cute really. I can imagine getting this on a breakfast tray with a single rose. Sigh. The heart is three layers of solid chocolate. White at the bottom, milk chocolate in the middle and pink (possibly strawberry although hard to tell) on the top.
Contained in the solid chocolate 'cups' is a creamy chocolate truffle filling, with a solid white chocolate lid. Really rich, so I wasn't tempted to scoff them down. Instead each one was deeply savoured. I couldn't even eat all four in one go! I ate these slowly, savouring each bite, with a big cup of freshly made ground coffee. Perfect.
The presentation is really quite lovely. It comes in a clear plastic box, decorated with a tasteful pink. I just love all the little hearts around it.
The only slight disappointment was the heart, as I had expected this to have at least a reasonably strong flavour. As it was pink I thought the top layer would be strawberry but in fact it didn't really taste of anything at all.
Cheeky Devil
If you're going to give someone your heart this Valentine's give it to them attached to a Thorntons Cheeky Devil, a snip at £2.49. This little fella is about as tall as my coffee cup. And really, he is dead cute. Looks like a chubby Casper the friendly ghost with devil's horns. Hard to eat though! I felt too guilty chomping into his head so started on the feet.
He might be at the cheaper end of the range, but like the I Love You Cups, some attention has been paid to presentation. He comes tied up in a cellophane bag with a pink Thornton's ribbon/bow attached to the top.
I would definitely recommend that you eat this chocolate treat over a plate. His head and torso were thinner than I expected and he broke apart with just a little bit of pressure. The chocolate is the usual, Thornton's milk chocolate so, well, yummy!
And Finally ...
If you're just exchanging tokens this year, or you want to give the kids a treat, or you're a teenager looking for something inexpensive to give a girlfriend or boyfriend, then these are just the thing. I like the price point, the attention to detail (nothing looks cheap), and the fact that it is Thornton's so you know if you like their chocolate and sweets you'll like these.
I can also see these making a nice little addition to a gift. Cook a romantic meal and scatter the Love Rocks sweets around with some rose petals on the table as decoration! You'd probably be able to come up with better ideas than me.
Thorntons Love Rocks are lovely sweets, but not rock candy. Apart from the hearts though, they're still just a bag of sweeties. This is a good price, but I wouldn't think of a bag like this as a gift.
Overall verdict: 7/10
Thorntons I Love You Cups are inexpensive but with more than a touch of luxury. I think these were my favourite out of the three.
Overall verdict: 9/10
Thorntons Cheeky Devil. The main selling point of this little guy is how cute he is. I didn't enjoy the chocolate as much - it is just plain milk chocolate at the end of the day. And also a little thin.
Overall verdict: 7/10